Passive Aggressive Walleyes  
              by Ron Anlauf                      
  Good ice came early last season, earlier than it has in recent memory and was welcome news for those chomping at the bit to get it all started.  In some of the northernmost parts of the country; anglers were even out on the shallower lakes before Thanksgiving, and it's been years since that has happened.  The attraction to the early season is action and lots of it, especially when it comes to walleyes.  They typically start out gangbusters and slow down steadily as the season progresses and some of the most exciting bites come early in the season. 
Productive early season techniques include plenty of jigging spoons and are really hard to beat when you're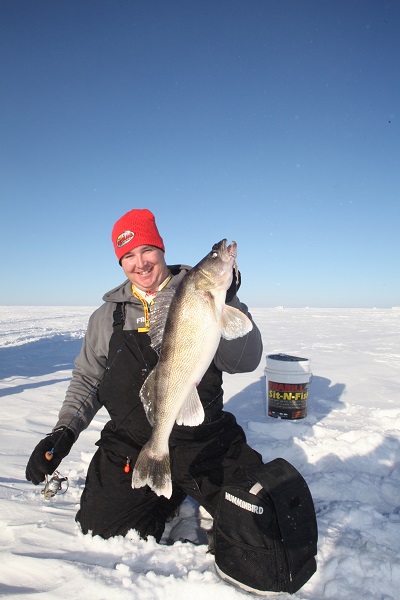 looking for fish.  A spoon tipped with a minnow head is quick down the hole and the flash and noise they make when you give 'em a snap can really turn fish on.  A little later on and they might prefer a softer less aggressive presentation but not  now, now is time to hit the spoon hard.  Drop a spoon like a VMC Rattle Spoon tipped with a minnow head and down the hole and to the bottom and pick up just enough slack so it gets almost back to the bottom with rod pointed towards the hole.  After you get it set; snap the bait up hard and then let it drop back down while watching the line on the surface of the water if you can.  If it stops before getting back to the "down" position you should probably set the hook.  If it makes it back cleanly you can let it set for a few seconds and give it a little bump up and then let it set again followed by another bump up. Most of my jigging has been done with a bait casting type combination and the new Teardrop Inline Ice Reel from 13 Fishing really fits the bill.  The Teardrop has a drag system you can trust and the super smooth free spool lets you get the bait down the hole in a big hurry and is a big plus when a hot bunch of fish shows up in your hole.   If you've watching all of the action on a depth finder like the Humminbird Ice 597 ci you can adjust your technique to the response of the fish.  If they come in and bust it; keep it up.  If they come in and just look you might have to back off on the hard snapping.  On the other hand the lack of a positive response could simply be the time of day.  Lookers will often change from passive to aggressive late in the day, just before and just after dark.
   Watching your bait with a depth-finder can give you an idea rather quickly if there are any fish around because if you're on the right spot they'll at least come in for a look, even if they don't hit right away.  No fish or marks mean that and you had better move on.  When looking for fish make sure to check out any deeper water in the vicinity.  Typically; walleyes will stay deep until late in the day and then move up and in and is when they become most vulnerable.  It could be a drop off along a point, a hump, or maybe just off a deep weed edge and is something to be aware of.
  Drilling a lot of holes is another part of the process and this year mine will be cut with a Strikemaster Lazer Pro.  A good buddy of mine bought one last year and blew me away by how fast his machine cut holes and decided at that point I better step up my game.   You may not have to drill that many holes and will depend on how quickly you can find some fish but it's a good idea to be prepared.  In a best case scenario you end up cutting two holes and catch all the fish you want but that really doesn't happen that often.  More often than not it takes some moves and extra holes drilled before you find the good stuff.
  Timing is everything when you're trying to hook up with walleyes and having your lines in the water just before and just after dark is imperative.  Staying late means being warm and comfortable because if you're not you'll be headed home early and before the hottest action kicks in.  And that's why I'll be using a fully insulated shelter like the Otter XT1200 Cabin this season early on.   Insulation eliminates condensation, is super quiet inside, and is much much easier to heat.   The Otter Cabin is a top of the line shelter that is perfect for early ice.  It's a two man house that is still small and light enough to be easy to move but super comfortable and roomy, even for someone six feet three inches tall like myself. 
  Of course the key to it all is good ice and is no time to take chances.  Make sure you know what you're doing and don't push it.  Even on good ice you can run into trouble and is why I started wearing a Striker Ice Predator insulated suit last season.  The suit is super warm and best yet; it floats!  I thought the floatation capability would make it a bit bulky but that simply wasn't the case and was actually the most comfortable suit I've ever worn.   See you on the ice.
Ron Anlauf