Fall Perchin' Lake Erie's Central Basin

by Jeff Frischkorn

A BOAT LOAD of useful walleye information in each issue from seasoned tournament fishermen and Lake Erie fishing experts.

Lake Erie Walleye Magazine

Subscribe HERE

More Information HERE
I

t was over in less time than it takes to watch a made-for-television movie. After just 90 minutes of lowering weighted perch rigs into 52 feet of Lake Erie water the five anglers were stowing their gear and battening down the hatches. While the perch were kind and generous, Lake Erie was showing its temperamental side with waves lifting the hull of Marv DeGreenıs boat by as much as four feet.

Even so the fact that the boatıs cooler was enriched by 150 plump,

sweet-smelling yellow perch was cause for celebration. "This is some kind of wonderful," said charter captain Steve Jager. "Another day in paradise."

The trip to heaven began as a busmanıs holiday for DeGreen, Jager and Ron Johnson, all Grand River-based charter captains. By a fluke the three normally busy fishing guides were each without a hired charter on a recent weekday afternoon.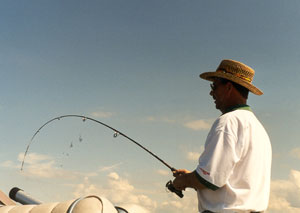 That was good fortune for Bob Ashley of Mentor and myself. We'd have the opportunity to join the three charter captains on a yellow perch fishing trip out of the Grand River. This way the three fishing guides could keep on top of where the perch were actively feeding. That, of course, was as

good of an excuse as any.

These guys love to fish and the thought of even an afternoon off was an alien and unacceptable alternative. They knew their boats would soon hibernate on storage racks, surrounded by deep snows and water-freezing temperatures.

"Once again the weather report got it all wrong," said Johnson as we

watched the three to occasionally four foot swells. No matter, for the wind and the waves created the perfect perch fishing chop. We had enough of a roller coaster ride to keep our perch rigs riding up and down from the lakeıs bottom.

The fishing gear was pretty much assembled when DeGreen shut down the boatıs engines and released the anchor. Based on their experiences the three charter captains had attached sinkers weighing at least two ounces to each of the rigs.

"There's a lot of current down there and you need the weight to keep the perch rig from running away," Johnson said. Hardly had the perch rigs touched bottom when the fish began inspecting

the baited offerings. Usually one fish was hauled aboard but enough double and triple headers were raised to spark more than a few "he-haws" and "yow-ees" from the quintet of fishermen.
"You might as well put that second rod away," Johnson said, looking at my pair of fishing outfits. "It'll only get in the way." Johnson was correct as the perch came so fast that the need for two outfits was outweighed by the simplicity of the technique. We only had to lower our rigs and then let the fishing lines go slack for a moment. Next

was to jerk the rods up to set the hooks and then reeling in anywhere from one to three perch.

The fish were then deposited into a plastic kitchen trash can for temporary storage. "When the can's full there's about 100 perch in it," DeGreen said.

In less than an hour the trash can held a treasure of 100 fish. At that

point Jager stopped fishing and offered a running sports television-style commentary. He cajoled when I raised three perch only to see two of them eject themselves before being swung aboard. And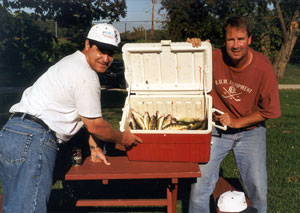 Jager offered a bravo when anyone hauled up a particularly impressive perch.

"The perch are really nice size this year, and we're not catching any

gobies and few sheepshead out here," DeGreen said. And so the fishing trip was over only a short time after it had begun.

Walleye are fine and few things excite me more than a thrashing steelhead trout but when to comes to filling the freezer with fillets, and having a ball doing so, nothing beats Lake Erie's autumn run of yellow perch.

For information about fishing with DeGreen, contact him at (216)

970-1246. Johnson can be reached at (440) 487-0002 while Jager can be contact at (216) 531-2754.