Walleyes on the Darkside
by Rick Olson
By early fall walleyes that had been hard to find and even harder to catch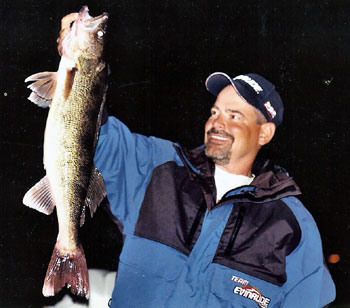 just a few weeks ago start to turn things up a notch or two, and the action can be exceptional. As good as it is the action can be even better, but you have to be willing to pay the price. The price is staying up well past your bedtime and missing a little sleep. OK, maybe a lot. Once the sun goes down walleyes really come alive and is a time when tremendous catches can be made, you just have to be there when it happens.
The options for cashing in on walleyes making a midnight run are numerous and can range from trolling shallow bars and reefs in a fully rigged boat to wading and casting current areas. If you have the boat you might as well use it, if not you can still get in on your share of the action.
Classic areas for trolling up monster fall walleyes includes anywhere you find current, as well as shallower rocky bars and reefs, especially those that stretch out for a hundred yards or more. It's not that smaller structure won't produce, it's just that you can keep your lures in the "zone" longer on an extended run. Reefs that come up to ten feet of water and shallower is what we're talking about, and where you can expect to find big schools of walleyes making serious feeding runs.
Good current areas include any incoming creeks or streams, as well as necked down areas like under a bridge or where a culvert connects a bay to the main lake. One of the things to look for when it comes to creeks or even small normally dry ditches is runoff. Fall rains can get things running again and the current will attract baitfish which will in turn attract walleyes, sometimes big schools of aggressive beasts.
Whether you're working a bridge, a culvert, or a ditch, it can pay to be persistent Walleyes can move in and move out at the drop of a hat so don't throw in the towel too soon. When it all happens can vary from night to night and lake to lake and it would be a good idea to be prepared to stick it out, even if the going starts out a little tough. Quite often the hottest action doesn't happen until well after midnight and if you head home too early out you could miss the whole thing.
Working big shallow rock bars is usually most effectively done by trolling shallow running crank baits like #13 or #18 Rapalas and adding enough weight to get the bait running just over the bottom That means you're going to hang up once in awhile but you should run as close as you can. That doesn't mean you have to be perfect either as night run walleyes can be extremely active and will readily chase down a good running bait.
Bridges can be easily worked by anchoring up and dropping a heavier jig tipped with a minnow and working it up and down and letting it thump the bottom. You can also try pitching the bait and covering some water but when you find the hot spot you may want to re-position the boat and camp right on top of the fish. The key is using a heavy enough jig to always be in contact with the bottom. As soon as you lose your feel you're in trouble as you have no idea where your jig is and what it's doing.
You can also try casting a deeper diving crank like a #7 Shad Rap while you're looking for fish and may be all you really need to do to put together a good catch. Try to think about what the bait is doing when working it back in like if it's bumping the bottom, or suddenly lost it's vibration. In that case you better set the hook.
Incoming creeks and streams may be better fished from shore or while wading and may be one of the only times when you should leave the boat at home. The best presentation includes casting out neutrally buoyant cranks like the Husky Jerk and slowly reeling it back in against the current. You simply can't duplicate the same presentation casting to shore. By working against the current you can even bring the bait to a halt and still get an enticing wiggle, if there's enough current.
Regardless of where you fish it can pay to key on the full moon phases. The three days or so before, during, and after a full moon is when you should try and get on the water and when most of the largest fish are typically caught in the fall.
Some necessary equipment to bring along includes a good source of light, like a Coleman lantern A headlight is another good idea and will allow you to shine the light on a fish and keep your hands free.
Big fish is what it all really boils down to and there is without a doubt no better time to hook up with a real monster than right now. Fall walleyes are already about as big as they'll get for the year and in prime condition now. Going toe to toe with big 'eyes late at night is exciting and can be well worth losing a little sleep.