The Late Season Walleye Trolling Bite
By
Gary Parsons & Keith Kavajecz
As winter undauntedly approaches, those of us that chase walleyes across the northern range are beginning to get a sense of just how limited our open water fishing opportunities are these days. Some have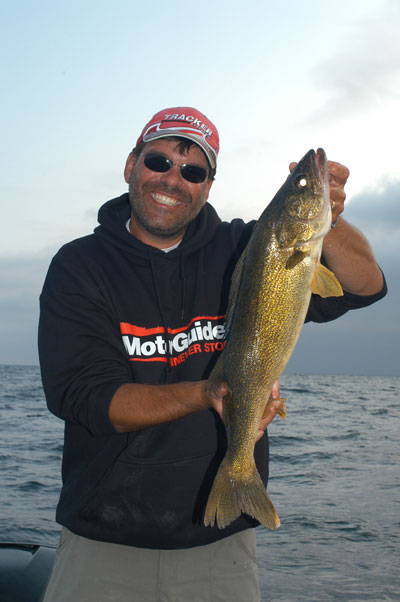 already changed focus from fishing to hunting pursuits, but there are many of us that choose to hang on to these last few chances remaining at good angling opportunities right to the bitterly cold end. For some, it's the chance to have their favorite lake virtually all to themselves, while others are hunting their last chance at a true trophy for the season. What ever your motivation, there is still plenty of great fishing left before ice takes over the lakes in walleyedom, and trolling crankbaits could be the best way to cash in on the last vestige of this season's walleye bite.
Historically, many good walleye waters offer great fall fishing, but when it comes to trolling up a chance at a true trophy, the Great Lakes offer the best chances. Places like Lake Erie near Huron, Ohio, the upper reaches of Lake Michigan, specifically Little and Big Bay De Noc, and the waters off Sturgeon Bay, Lake Ontario's Bay of Quinte and Saginaw Bay of Lake Huron are all known walleye meccas in late fall and into the earliest days of winter.
All these waters have one thing in common; their vast expanses of fishing areas and plenty of big walleyes. But the fishes' location is the key to success. On all these bodies of water there's a seasonal migration that plays out ; walleyes moving from the open water basins where they've spent the summer to more "near-shore" breaks and structures. The reason is food. Walleyes are in pursuit of large schools of baitfish that will sustain them for the upcoming winter months. While it wasn't unusual to target walleyes suspended over fifty feet of water or more a few months ago, now the fish are apt to be more bottom oriented with popular depths from as shallow as 6 feet (at night) to 50 feet during the day. That's not to say there won't be some fish suspended, but check your graph and we'll bet that most of the time your odds tend to be better fishing lures near the bottom. You're looking for fish relating to structure, be that main lake flats, reef systems, or primary shoreline breaks with access to deep water. During the peak of summer, you may have had to run 20 miles or more off shore to locate schools of walleyes in the basins. Now you may only need to travel two or three miles from the launch to contact fish (great news for those looking for walleyes that won't cost them dearly at the gas pumps!). Follow the baitfish movements, and you can stay on fish right up to ice-up.
Tackle and techniques for trolling up fall walleyes on these big waters is not much different from the tactics used in summer. Crankbaits rule. What may surprise you however is the style of crank that becomes the top producer this time of year. Conventional thinking would have you looking at the cooling water temperatures and consider lures with a subtle, rolling action. But remember what's first and foremost on the minds of the walleyes this time of year … food. That tends to put these fish in an aggressive mood. Lures that match their aggressive attitude and the size of the forage in late fall will get more attention. Large, deep diving, high-action baits can be deadly in the early part of the fall. Then as the water temps cool, you may need to switch over to the more subtle action baits.
Although this is Great Lakes walleye trolling, you need to change your mind-set a bit from the tactics used for covering the openness of the main lake basin in summer. Trolling boards like Off Shore Tackle's OR-12 Side Planers are still useful if you find the fish in open water flats, but if you're targeting walleyes relating more to structure (reefs or shoreline), you don't want to be letting those boards way out away from the boat. Keep your spreads tighter, or maybe only run one board line out over the open water away from the break to see if there are a few suspended stragglers lurking out there.
One word of caution regarding fishing these big bodies of water this late in the season, bundle up and lean toward the side of safety. The winds of November can blow cold and blustery on The Great Lakes. If you're going to fish effectively you've got to hit the water prepared. Insulated clothing, plenty of layers and quality rain gear like the Bass Pro Shops 100 MPH rain suit are a must. It's a "dressed for success" combination that will keep out the cold, wind and wetness that could quickly put a real damper on an otherwise great day on the water.
Editors Note:
If you have questions or comments on this or other articles from Gary Parsons and Keith Kavajecz, visit their website www.thenextbite.com.
www.walleyetacklestore.com
Fishing Tackle &
Equipment Index
Boat Equipment
Downriggers
Marine Electronics
Rod Holders
Trolling Equipment
Trolling Motors
Fishing Maps
Lake Erie Maps
Lake Ontario Maps
Lake Michigan Maps