Last Hurrah for Big Fall Bass
by Ron Anlauf
There is still time to get in on some superb largemouth bass action but you better make it quick. Before you know it the hottest cool water action will be here and gone and won't last forever, especially here in the Northland. But if you take the time to get on the water soon; you could easily find yourself up to your elbows in big pole bending pigs, and is the best time of the year to nail a real hawg.
Adjusting is the name of the fall game and includes a variety of patterns and presentations. By early fall the deeper patterns of late summer start to fall apart and bass can be found just about anywhe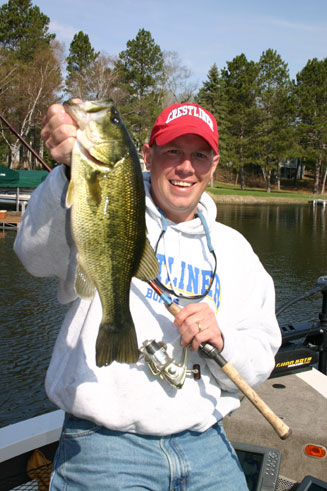 re including deep, shallow, and somewhere in between. Some of the hottest cool water action takes place in early fall,where the season may have began; in shallow water. As temperatures cool down from their summer highs a lot of bass begin to show a renewed interest in the shallows. The action around shallow structure like brush and timber, docks, pad fields, and even inside weed lines can really heat up, and are some of the areas where you might want to spend some extra time.
There's no real shortcuts to finding shallow water bass and all the options should be checked out. When faced with a lot of potential fish holding hot spots it sometimes takes a little work and could mean some extra casts and moving from one area to the next to get the job done.
Professional guide John Janousek of Nisswa, Minnesota (1_320-630-3145) loves working fall bass and uses a number of productive methods to get it done: "Presentations that let you cover water quickly such as casting spinner baits and even buzzbaits are solid early fall producers. Blade baits like the Northland Tackle Reed-Runner Spinnerbait are quite versatile and can be used to work shallow cover like the edges of pad fields, or over the tops of weedy flats, or dropped along the deep edges of deep weeds or timber. A single blade bait is a great for working the tops of a weed bed and then allowing it to free fall on the deep edge which can really turn fish on. The technique requires some serious line watching which will indicate a pick up or strike."
Crankbaits are another excellent choice and what you choose will depend on the cover you're trying to work. Even though things are starting to cool down; early fall bass can still be active enough to chase down a fast moving bait, especially during the warm afternoon period so don't be afraid to speed things up. A crankbait like a #5 Fat Rap burned through the tops of standing weeds can definitely produce under such conditions.
As water temps cool off even more, look for bass to migrate to deeper areas like the mouths of creek arms, main lake dropoffs, and the deepest edge of any remaining bright green weeds. These are the areas that can hold big schools of late fall bass, and where they're likely to spent most of the winter. That doesn't mean they'll give up on shallow water completely, it's just where you're most likely to run into the heaviest concentrations.
Even though their metabolism will slow way down late fall bass are more apt to stay active as they need to put on layers of fat to help get them through the winter. Somewhere between early and late fall slower presentations like slow rolling a spinner bait, or slowly reeling in a deep diving crank bait, or working a jig n' craw across the bottom really begin to pick up. Slow is usually the key and the slower you can work a bait the better. Although you can't cover as much water as with a faster technique, it's more in tune with the preference of late fall largemouth. The good news is the fact that cold water bass typically bunch up in mega schools, and if you can find one or two chances are there's more, maybe a lot more.
Instead of catching one or two fish and then moving on you might do better by staying on spot and spending more time working the same water over and over again. If you're in the right area fish will periodically become active throughout the day and if you're there when it happens you'll be reaching for the net. Slowing down and staying put is a big change from the run and gun patterns of mid-summer but is definitely more peaceful and even more rewarding.
See you on the water.