Walleye Ideas


by Bob Jensen


Walleye season is officially open all over the Midwest. Now that walleyes are fair game throughout walleye country, here are some things to keep in mind regarding walleyes.

After the spawn, walleyes are often thought of as fish that like to be near deeper structure. While it's true that these glassy-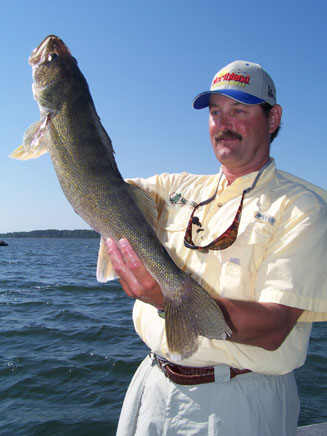 eyed fish often can be found near rockpile and points and sunken islands and deep reefs, there are also times when they'll be in the shallows. Walleyes, like any other fish, go where the food is. If their food is shallow, the walleyes will be shallow. If their food is deep, they'll be deep.
Sonar is a critical tool for catching walleyes, especially when they're deep. It works well to cruise deep areas with a close eye on the sonar. If you see signs of life on the sonar, fish the area. If there is no life, keep looking. This assumes you have the sonar properly tuned. If the sensitivity is set too low, you probably won't see much. Humminbird sonar units are easy to tune and they draw a great picture of the underwater world. The side-imaging feature on some Humminbirds allows you to cover lots of water quickly in your search for walleyes.
If the food is shallow, that's where the walleyes will be. We've caught walleyes a good number of times on wind blown points in just two or three feet of water. If the wind blows from the same direction for a couple of days, find a shallow rocky point and cast jigs or crankbaits. You'll probably get bit.
Weedlines also hold lots of walleyes. Look for points or pockets in the cabbage weeds. Just as an irregular feature on the bottom of the lake will concentrate walleyes, an irregularity in a weedline will concentrate fish.
A jig and minnow will catch weedline fish, but we're going to be ripping the jig off weeds frequently, and that will also usually rip the minnow off. A better addition to your jig is a minnow shaped Gulp!, Gulp! Alive, or PowerBait. These soft baits provide color and action that trigger walleyes.
Some jigs are made to be used with soft bait. The new Slurp! Jigs from Northland have a soft bait holder and long-shank hook that were designed to be used with soft bait. Try using a jighead that contrasts in color with the soft bait.
In addition to catching walleyes on the weedline, you'll catch a variety of other species. Weedlines can provide lots of action at the right time, and action is one of the main reasons we go fishing.
Slip-bobbers can be a great way to catch walleyes in some situations. Remember that walleyes see up better than they see down, so set your bobber a little above where you think the walleyes will be. They're much more likely to go up for a bait than to go down for a bait.
Walleye season is here. If you keep these ideas in mind, you'll be able to have a much better walleye-catching season.
Watch all the 2009 episodes of Fishing the Midwest television on walleyecentral.com in the video section and on MyOutdoorTv.com.