I woke up early this morning stumbled out of bed and over to look
out the bedroom window. Outside on an old oak tree nailed to its trunk sits an old rusty thermometer. I could see the gauge was reading thirty two degrees. There was little if any noticeable wind and the only sounds disturbing this other wise silent and peaceful morning was that of my wife snoring behind me. I decided to look over at the alarm clock which read only 4:15 am, I didnít have to be at work today and the old lady didnít have some type of chores for me to do, so it looked like a good day to drive over to the river and fish a few deep pools on my favorite steelhead stream.
I always have my gear packed and stowed in the truck, so it was only a matter of sneaking around the house to quietly make a pot of coffee, grab a granola bar and get dressed without being detected. I decided to leave a note where I was going and to purposely forget my cell phone on the kitchen table. I felt like I was a young kid again waking up hours earlier than everyone else to open Christmas presents. As I stepped out the door, the chilling morning air reminded me of our Cabin and the opening day of deer season in the Allegany Forest of Pennsylvania, and as you can tell I was pretty excited to be sneaking around and playing hooky from everything and everyone today.
As I drove down the old road into the valley where my favorite steelhead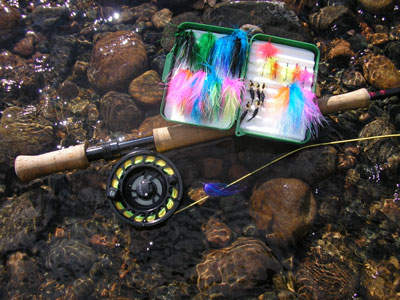 haunt was, the moon light and the bright reflection off the snow revealed several deer and Canadian Geese feeding in a cut corn field, and behind them was the winding river that was still waiting below. What seemed like an eternal drive finally came to an end at the bottom of the gorge. I pulled off and parked next to the old and tattered wooden covered bridge, the same bridge my wife and I carved our names in the wall as love birds in High school. I couldnít believe my eyes as I stretched the sleepiness from my limbs. Staring through the dark and Looking around in every direction there was no one; I was the only one here? I thought to myself what a beautiful morning, and itís a shame that I have all this river in front of me and I donít have to share it with no one else; at least for that minute. I smiled and laughed to myself for the greedy thought I had just had, but then again itís not my fault no one else was here.
Seeing that no one was around I decided to take my time this morning. So I put my waders on and finished my cold half cup of coffee and granola. I decided to listen to a few minutes of News talk radio while I put a thin coat of Vaseline on my fly rod guides and at the end of my fly line to help deter them from freezing over on the river. After a quick check of my chest pack and fly boxes I was ready. I decided to take the easy path through the woods to reach my favorite stretch of water. The sun was not quite up yet, but you could see it was trying to burst its way through the thick grayish black cloud cover. While walking I looked down at the river, which had the perfect steady flow and was that magical emerald green color steelhead anglerís crave.
As I came off the path and reach my pool I could only stand and stare in awe for a moment, everything was absolutely perfect. The river bends into a forty foot high shale wall creating a pool at its base the size of a cement truck. The shale wall is littered with 25 foot long Ice cycles and evergreen trees growing out of the wall, and over the river bending upwards towards the heavens. Behind me is nothing but the darkened forest and its secrets. I have found the solitude I long searched for, and in doing so I realize and cherish the eerie feeling that I am truly alone.
I decided to sit along the bank until Dawn. Besides no sense in crowding the pool and screwing up the rotation? Every dedicated steelheader knows that rivers in darkness are haunted by the ghosts of anglers past. They deserved their time and their solitude, and if you are quite and patient long enough you can see them casting, smiling, and walking away from the river by their reflection off the water at first light. I really never wanted to push my luck by fishing in darkness and I didnít want to be the man that cut into their fishing time. To some this may sound crazy, but most are always in too much of a hurry to see things the way I do.
At dawn I gently waded out into the river, unhooked my leader and started stripping spey line from my reel anticipating and hoping for a perfect first cast. I cast up stream and across the pool, mend the line and visualize what my electric blue a purple marabou spey is doing and where it will be during the swing. As usual winter steelhead fishing is a patience game and a time of personnel reflection and fly fishing perfection on every cast. I knew I had the patience and the time, so I continued casting and worked the pool on my own three steps down stream and cast rotation, starting at the top and finishing at the tail out of the pool.
During the cold of the winter it was not uncommon to pull a skunk four out of five days on the river. My pool had always been the rabbit in the hat for me though and I knew that least one of my casts would inspire a take; I just didnít have a clue when it would be. The snow has now started to fall and become heavier by the minute. One moment everything was visible through the falling snow, but now it was falling so hard and fast I felt like I was being punished and sent to a corner to stare at a white wall until I was told otherwise.
The tail out of the pool was approaching as I took my last three steps down stream. Nothing was going to stop me from finishing my rotation. I must have cast 100 times in the past couple of hours, and as I squinted to follow my line everything came together. My line stopped and pulled taunt toward the depths. I set the hook firmly and could feel the slow heavy but powerful head shake just before the fish darted to the head of the pool. During the next few minutes of utopia Ice shattered from the rods guides and water misted off my line as the steelhead made powerful runs back and forth through the pool.
I still have not been able to see this beautiful specimen, but I knew she was big, do to the fact I had a hard time gaining any line on her and the bull dog mentality to stay and feel secure in the pools depths. The hard snow fall was starting to create slush on the water and I new that this would probably be the end of my day unless the weather changes in the next hour. I could finally tell she was starting to tire a bit now, and I was slowly starting to gain ground on her.
She was viciously trying to dislodge the fly with continued head shakes as she eased closer to shallow water. Everything around me became silent; I could not hear the sparrows chirping or the waters current as she came into view for the first time. The river had granted me permission to see one of its winter treasures. The she was infact a male as I skated him to the shallow water at my feet. He was a gorgeous mint silver buck with broad shoulders, healthy layers of thick fat, and a massive jaw only a steelheader could love. As I removed the spey from his mouth I could not help but stare into his eye and wonder what he was thinking at that same moment. I knew he was the king of the pool this winter, and as I held him in the hand numbing water he swam away as if nothing had ever happened; as if he allowed me to grace myself in his presence.
After releasing and watching him disappear back into the pool, I stumbled over to the shore reeled in my line and sat down on a rock over looking the river. I could hear everything again, the waters current, sparrows and crows, and the echoes of whining frozen trees longing for spring. I felt refreshed and energized by the freezing air and the snow falling on the back of my neck. I love steelhead fishing on a winterís day and the memories it inspires. Iíve gone and spoiled myself once again! I realize now its time to leave my chilly sanctuary and spent time with the most important thing in life, my family.
As I walk back to my truck the snow has stopped and the storm had passed on, its like god appreciated sharing in my experience and wanted to make sure I had a safe drive home. During the long drive home I am reassured in knowing that the next steelheader that walks that very path will have an opportunity to experience things the same way I did, and to leave refreshed and remember the things we cherish the most and take for granted every single day.