There's a real rush to be had when you go toe to toe with a big laker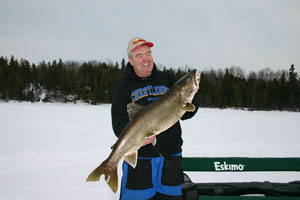 through the ice, and the result can be addicting. It's more than just the battle though; it's everything that goes with it. Like the beauty of a remote Canadian lake, and being all by yourself at times, and drilling holes where no man has drilled before (at least this season). Combine that with a superb fighting fish and you can get an idea of what heaven might be like.
It's also why the dedicated sometimes subject themselves to extreme weather conditions like daytime temperatures that stay well below zero. Team Crestliner members John Janousek and Tracy Pogue of Bemidji, Minnesota have been bitten by the big laker bug and make at least a couple trips every winter and have been on the ice with lows in the thirty-five and forty below range. Pogue on the extreme: "It's a little tough, but you just deal with it and the fish don't seem to mind. Our best trip last year was darn cold but we caught a lot of fish including a twenty-six pounder!"
Pro fisherman and guide Jeff "Gussie" Gustafson of Kenora, Canada (1-807-468-7898) absolutely loves chasing down and catching monster lakers and spends a good deal of the ice fishing season in pursuit; "It starts the first of January and I can't wait to get going. It's about as much fun as you can have, especially when you actually see a big trout come in and circle your bait and then inhale it!" Good lake trout water is gin clear and you can see down twenty feet or more, and makes for some great viewing. "You'll see fish on the depth finder but you can also see some of the high riders if you look down the hole. Last year over half of the fish we caught came up high where we could literally see them. The fish use the ice to push up schools of bait against, so don't be afraid to spend some time working the top ten feet or fifteen feet."
When Gussie starts looking for lake trout he'll check out main lake structure like points and fast breaks, especially if it's close to real deep water; "Winter lakers are as active as they'll be all year and are usually biting, you just have to find them. They also move around a lot so you better be mobile. I'll set up on a spot and maybe give it a half hour before moving on."
Gussie's go to bait is a 3 ˝ inch Northland Tackle Slurpies Jiggin' Tube in a Silver Shiner pattern. "The lakers are chasing ciscoes and smelt and the plastic tube does a great job of imitating what the fish are feeding on. You could use a smaller tube or add some meat like a piece of sucker belly or a minnow, but most of my bigger fish have come on pure plastic, especially the larger tubes."
He'll cover just about every depth and has caught fish down to a hundred feet; "I've caught them extremely deep but most of the fish come out of the forty to sixty foot range, even in much deeper water. I'll use a Marcum LX-5 to keep track of what's going on in deeper water and watch for chasers. Fish will come in and not always take the bait right away, but if you can keep working them higher and higher you just might get them go."
The basic jigging technique includes lifting the bait and letting it drop, and then waiting for it to settle out before lifting it again. The tube will swing out on the lift and then turn back and glide back in on the drop. If you're getting stared down you might try giving the bait a short pop or quiver, or keep doing what you're doing, whatever it takes.
Gussie uses standard walleye gear to get the job done even though there are some specialized rods you could use; "My heavier walleye spinning rods work just fine. I like to use spinning gear because I can back reel when a fish makes a big run, and they're going to make plenty of runs. I've started using braided line a lot when working deeper water because I can get a better hook set. I'll still use a leader though, which is usually eight or ten pound test monofilament."
Some of the best trout water that's in range of us that are stateside includes Whitefish Bay on Lake of the Woods, Crow Lake near Nestor Falls, and Dryberry northeast of Sioux Narrows. According to Gussie you have to travel another five hundred miles to find anything that's as good.
It's probably not something you can do everyday (unless you're Gussie), but could do every year. I had heard about it and heard about it and finally made the trip with John, Tracy, and Gussie last season and is now part of an annual plan. See you on the ice.