Beat a Slump with Jumbo Perch
by Ron Anlauf
When the good walleye action hits the skids a lot of anglers say forget it and will stay home; but what fun is that? And besides, when t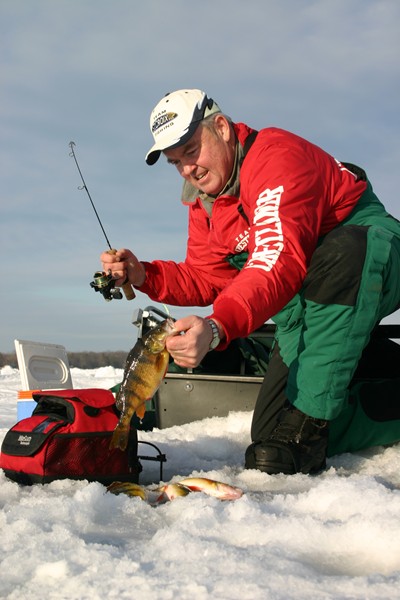 he going gets tough the tough get going and where they're going is ice fishing. However even the toughest eventually see the writing on the wall and the wall is saying that a little change may be in order. A little change like targeting a different species can be the big ticket to enjoying some quality time on the ice.
When the hot walleye action of the early season fades away sharp anglers often make the move to targeting a distant cousin; the yellow perch. Unlike other species perch seem to turn things up a notch during the mid to late ice season and the action can be phenomenal. Another option is to double up and spend some of your time chasing old marble eyes and the rest trying to put a bunch of jumbos on the ice.
Quite often the areas that hold walleyes attract and hold perch as well. In fact it's likely that the perch are the big drawing card for all those walleyes and if you find one the other is probably near by. The key is finding one or the other and then looking for specific areas that are holding concentrations ( a.k.a. the mother load ). The good perch areas usually vary a bit from the top walleye hot spots but it's really not that hard to figure out.
When you take a look at typical walleye structure one of the first places to take a peek at for numbers of jumbos is the deep edge of a bar, hump, or drop off. Try poking around even deeper, at the deepest edge where hard bottom meets soft and look for perch to pile up. When you're working deep; don't be afraid to get off the structure twenty or thirty yards or more, out in the middle of nowhere. It's a classic perch pattern and there is no way to know if they're there without drilling some holes and making some moves. Another option to perch location is going right up on top in the middle of the structure.
Walleyes will often make feeding movements into said areas at dusk and dawn and is no place for any self respecting perch to be. Midday is another story and a time when perch move up and chow down on small minnows and larvae that they've found up on top.
The whole process includes using a depth finder to locate an edge, drilling a couple of holes, and then spending fifteen minutes or so fishing to see if anybody's home and moving on if they're not. The thingabout perch is that if you're on enough of them you will catch them. If you've worked most of thestructure but to no avail, you might as well work over the rest just to be sure. Many times ten or twenty feet that way or thirty feet over there can make all the difference in the world and you'd hate to miss out bynot finishing the job.
Earlier in the season you can use a depth finder to shoot right through the ice to locate structure and even fish, that is if the ice isn't all busted up or too thick. But by mid season layers of snow and ice can reduce the amount of information you're able to garner, and it may take drilling and fishing to do the locating.
Stumbling onto a big school is probably going to require drilling a bunch of holes but the reward could bewell worth the extra effort. It's also a good time to use a gas powered auger with a smaller diameter drill like Eskimo's Z51 Shark with an eight inch auger. The Shark screams through thick layers of ice and won't grab on the bottom of the hole. In fact when it burn through it feels like butter, and not like you're getting your shoulders dislocated.
Another key to locating active perch is using the right bait, one that you absolutely know will attract fish. One of the top producers day in and day out is the1/16 oz Northland Tackle Buck-Shot Rattle Spoon which is a smaller bait that's still heavy enough to get the bottom quickly, on light line. You can drop the light spoon down the hole and start working tight to the bottom but don't be afraid to get up six or eight feet or more off. Working high will help you get noticed and the most aggressive perch will have no problem coming up to greet it. Northland's new 28" Gold Series med/light Trick Stick combination loaded with four pound mono is perfect for light spooning in deeper water. The rod is made from 100% graphite and can give you the feel you need to detect a light biting jumbo.
If you're using a spoon you'll need to tip it with live bait to get the proper reaction. Perch will come and look at a bare bait but it usually takes a little meat to get them to take it. A piece of a fathead is a good way to go and about all you'll need most of the time. Although when the going gets a little tough you might try hooking a waxie or two on the treble. By late season waxies become more effective and may be your best bet for icing big perch.
Good jigging techniques include shorter strokes which can attract wary perch without scaring them off. Perch are food for larger predators and they know it, and too much action in your bait can definitely spook them. If you're watching the action on a depth finder like the Marcum LX-5 you can see it all happen, and will help to you to refine your hard presentation and come up with something that draws them in and doesn't offend. If you're seeing fish on the depth finder that are coming in for a look but not taking the bait you may have to alter your technique.
A good trick for turning the lookers into takers is to try and work them up off the bottom. If you can get them to follow there's a good chance they'll take the bait. Another trick is to follow a snap with a dead still hold, followed by a tiny little bump of the rod tip. Many times that little nudge while they're staring down a bait is too much for jumbo perch to resist. See you on the ice.