Spoon-Fed Walleyes
by Bob Jensen
If you were to look through the tacklebox of an ice-angler who concentrated on walleyes, chances are you'd see a lot of spoons. There's a reason for that: Spoons catch a lot of walleyes. In many areas, spoons are the go-to bait for many, probably even most, accomplished ice walleye anglers.
There's a good reason why spoons are so effective on walleyes under the ice: There are spoons that rattle, and spoons that are quiet. Some spoons flutter and fall slowly; others have less action and fall faster. Spoons come in a variety of colors, and sometimes color is a very important consideration.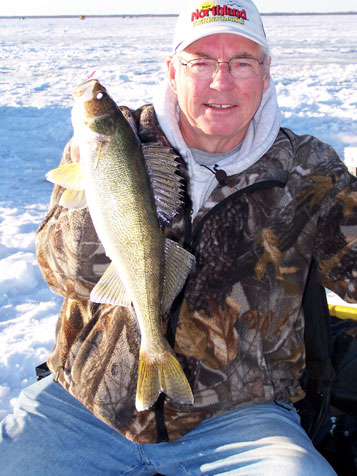 Because of these different qualities, it is possible to select a spoon that will most effectively match a walleye's desire on any particular day. Here are some things to think about when selecting a spoon to catch walleyes that are living under the ice.
First consider water clarity. In stained water, bright colors are usually better. Select a spoon that glows. Also go for a spoon that rattles. Bright spoons that are glowing are easier for the fish to see, and a spoon that rattles is also easier to find. Be sure to use one of those little flashlights like the Glo-Buster to re-charge the glow on your spoon every now and then.
In clear water, early and late in the day, you'll want to try the same spoon you might use in stained water. However, more subtle, natural colors might be best during the bright part of the day.
And, there are times when the walleyes want something different than you would think. You should always keep an eye on your sonar to help determine what the fish are more likely to take. If they're coming in and looking but not eating, you need to do something different. Maybe a more or less aggressive jigging action is called for, perhaps a smaller spoon is in order, and never hesitate to change spoon color. Unlike open water fishing, with a good sonar unit you know when a fish is looking at your bait under the ice. If they're looking but not eating, you need to give them something different. The MarCum LX-5 or LX-3 units do a great job of letting you know when a fish is looking at your bait, and the TrueColor feature provides excellent separation.
In most situations it works well to attach a small snap/swivel to 10/4 FireLine Crystal, then attach your spoon to the snap/swivel. This prevents line twist, and the FireLine provides superior hooksets and sensitivity.
When it comes to selecting a spoon, you can't go wrong with a Buck-Shot Rattle Spoon. They have been proven to be outstanding walleye-catchers, they provide lots of glow that doesn't need to be recharged frequently, and the rattles simply attract more fish. Buck-Shot Rattle Spoons are what many of the best walleye anglers reach for first.
The walleyes are biting through the ice right now throughout the Midwest. If you get the chance to go, be sure to take some spoons along.