Long Distance Walleyes
by
Ron Anlauf
Thereís no doubt that the first ice period is probably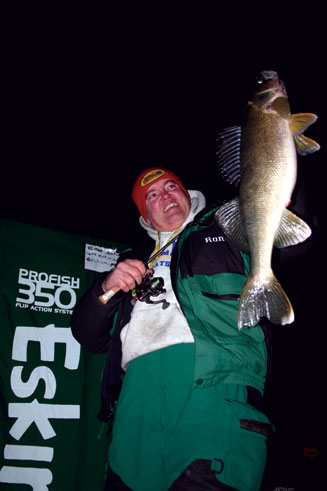 your best bet for hooking up with hyperactive walleyes. And itís been said that; ďIt ainít over till itís overĒ and itís far from over. Thereís plenty of steady walleye action to be had itís just that you may have to make a logistical change or adjust your tactics.
According to professional angler and full time Nisswa guide Richie Boggs; ďI like to get out as soon as possible but Iím not willing to walk that far for it. By early January you can usually find safe ice everywhere and I can pretty much go wherever I want. When I start working main lake structure Iíll wait until thereís enough ice to safely support a four wheeler or a snowmobile. There are just too many spots to check out and only so much time in a day and you canĎt cover enough ice on foot.Ē
Offshore is where a lot of the mid season action takes place and can sometimes mean super long runs like the mud flats in the middle of Mille Lacs, or maybe one of the northeast rock piles on Lake of the Woods, or maybe a deep hump on some desolate bay on a remote Canadian Lake. Being mobile is the key and includes snowmobiles or ATVís and portable shelters.
If youíre going to make the run you better be prepared and put safety first. For one thing; never go alone. You never know what you can run into including bad ice, or maybe mechanical failure. That means more than one sled or ATV so you can at least get back if one of your machines breaks down. A tow rope is another must and could help you get everything back to shore if things go bad. Itís also a good idea to bring more than one shelter which means another set of gear including a working heater.
Those long runs can be tough on everything and is no place for a wimpy sled or an inferior tow hitch. Itís also why Iíve been running Eskimo flip over shelters for a number of years which have never ever let me down. Their new Escape series starts with the same heavy duty sled and has an available hitch thatís basically bullet proof. Itís a sickening feeling when you finally reach your destination only to realize that your hitch has failed and youíve left your sled somewhere along the way.
They also have a new heavier weight cover and a built in storage compartment under the flip up bench seat where you can store rods, tackle boxes, and miscellaneous gear. My heater rides in a milk crate to help protect it and keep it in working condition. My camera rides in a pail lined with four inches of foam on the bottom. Getting minnows to the fish can be a challenge but Iíve found that a small square plastic cooler with a tight fitting lid that fits snugly in the bottom of the sled works fairly well and the amount of water lost on a rough ride is minimal and the lid can be easily busted lose if it freezes down.
A G.P.S. is another necessary piece of equipment for chasing long distance walleyes that makes the job of getting to a hot spot and back again much easier and a lot safer. Itís easy to get confused on the ice especially if you stay after dark as things no longer look the same. A snow squall and accompanying white out can also get you into plenty of trouble and you never know when it might hit. With a plotter and plot trail you can get back the same way you came and avoid potential hazards. A full sized Humminbird 917c with a wide screen mounted on the dash of my sled makes the job of reading and running a whole easier. The pocket units are handy but too small and too difficult to see when youíre on the run and they really canít do a high definition map justice. The 917c has a big enough screen to display todayís high def maps with all of their incredible detail and can help you find previously undiscovered hot spots.
A deep cycle Optima battery thatís rubber snubbed down in the back rack on my sled powers the Humminbird on the dash as well as a 12volt light with a fifteen foot power cord with alligator clips that illuminates the shelter. Iíve used them all and havenít found anything that works better or is tougher than a clear plastic lens and a light bulb and have yet to have the system fail, even after six years of thirty mile runs and sometimes pounding rides. And the Optima will keep you lit up for hours and Iíve never pulled it down far enough to lose power.
Making a long run is part of the challenge and the fun, especially when a plan comes together and you uncover the mother load. It isnít always necessary and thereís usually fish in close that a lot of anglers pass up but the fact is the run is fun.
See you on the ice.