LAKE ERIE
SPORT FISHING Aboard The
DAILY DOUBLE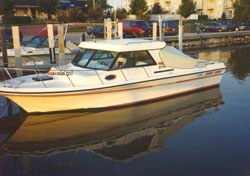 27 Foot Sportcraft Sport Fisherman
Fish the WalleyeCapital of the World In Lake Erie's Western Basin and Canadian waters and reefs.
Captain Bill Neer
1590 S.R. 96, Shiloh, Ohio 44878
(419) 895-1491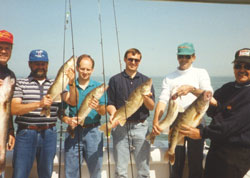 Plan now for your fishing trip with your family, friends, the guys at the office, your club or your best customers.
Don't Miss the Boat, Book Early.
Your Pleasure and Relaxation is My Business

"New In '92"
The Daily Double is a 27-foot Sportcraft sport fisherman which features plenty of room to accommodate up to 6 anglers with comfort and safety.
* Licensed by the U.S.C.G.
* Fully insured
* Impulse depth sounder
* FM marine radio
*Chart fish recorder
* Ohio Licensed guide
* All safety equipment
*Colored video
* Loran C/Plotter on board computer
*Marine head
Member:
Lake Erie Charter Boat Association
Lake Erie Sport fisherman

Call today for advance booking dates :
(419) 895-1491
Low competitive rates for a full day fishing.
If we cancel your charter due to unsafe lake conditions, we will either refund your deposit or schedule another date.
A $120.00 deposit is required to hold your Reservation of your choice.
Deposit refundable due to bad weather or 2 weeks notice before scheduled trip.
Bring basics: lunch and beverages, rod and reel, Lures, bait, deck or tennis shoes, VALID Ohio fishing license, camera, Rain gear, cooler to take fish home, sunglasses, Cap, and sunscreen.
One full 8 hour trip per day. If limit is, Reached early, we can fish for another Species.
DOCKED AT
Drawbridge Marina, 247 Lakeshore Drive, Port Clinton, Ohio
DON'T MISS THE BOAT, BOOK EARLY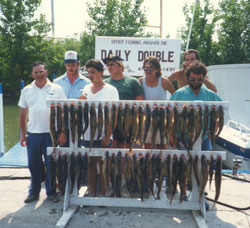 RECOMMENDED FISHING TIMES
WALLEYE
April thru July
Mid-September thru October
SMALLMOUTH
Mid-June thru October
COMBINATION
WALLEYE/SMALLMOUTH
July thru October
PERCH
August thru October

EXECUTIVE FISHING TRIPS
Due to popular demand, we are offering the executive
Fishing trip. The trip will include these extras:
1. A mixture of cold beverages
2. Complete lunches
3. Berkley fishing rods
4. Trilene line
5. Picture of your guests with their catch
6. Assortment
The executive fishing trip will be available for a fee of $250.00 in addition to the standard fishing trip fee.
Fishing packages are available upon request.
Note: Bait for smallmouth bass trips can be provided at current market prices.

DAILY DOUBLE RATES
All trips based on 6 people or less.