Majestic Fishing Charters
Walk-Ons Welcome


Good Luck in Retirement, Captain Jaycox!

Just to let you know, I sold my new boat and decided to retire, not a easy decision for me but at 84 years old I guess it's time. The Coast Guard has been getting real strict on licenses and rather than fight that battle I decided to let my license expire after 64 years of service to the marine trade . I have operated boats from 90 ft long to boats 20 ft long ,never had a major accident or injury, Have had fires , flooding of bilges , loss of steering , man over board , Twice loss of engines , broken shafts, reduction gear failure, and got lost coming home from Florida once with the majestic and ended up in the Niagara river entrance at 12 midnight, don't ask me how!!! The point I'm trying to make is I never once caused any damage or loss of life or injuries. Like the flight attendent told his passengers IT'S BEEN A GREAT RIDE, so I think I will grab two beers and slide down the shute. Like Macarthur said, Old sailors don't die they just fade away . Over the years I tried to bring attention to the Lorain waterfront as harbormaster and as the owner of Majestic to some extent I think I have done that. Thanks to all my friends for your support and help, Capt R A Jaycox.





About the Captain
About the Boat
About the Fishing Seasons
Rates
What To Bring
Chartering Dos and Don'ts
Deposits
Frequently Asked Questions
Fishing Photos Page





We don't "Monkey Around", we catch fish!!
Our vessels are sport fishing boats and as such offer the true enjoyment of fishing, combined with first rate personal service.
A fishing excursion aboard our vessels can and should make a memorable and relaxing experience.
Through all the different ways to fish in our area, there are certain unspoken lines of etiquette that should be followed by both crew and anglers alike.
For a trip to fulfill your expectations there must be honest communication when you book the trip as to your desires and your crew's opinion as to the feasibility of what you wish to do that day.
When fishing begins the captain or mate can assist you in fishing as much or as little as you desire. Some anglers prefer the hands-on approach of hooking and bringing the fish to the boat themselves, with very little assistance from the crew. Other, perhaps less-experienced anglers prefer to rely more heavily on the crew's fishing experience and abilities to securely hook a fish.
People go fishing for different reasons. There are those who sport fish, with their interest mainly in large fish or mounting, photographs or simply to battle a fish one-on-one. Fish to take home to family and friends is another common goal, since there is a variety of excellent eating fish. There is also the family group that wishes for a little of both and perhaps an opportunity for their child to catch something that will create a lasting memory.
The departure time that you and your crew have established is most likely directly related to the type of fishing that you wish to do. So it is definitely in your best interest to arrive on time.
While aboard, there are rules of etiquette that you will want to remember so you can have a pleasant relationship with your crew. The boat you have hired is a boat that someone takes great pride in owning and maintaining. The cushion you sit on, the tackle you use and the decks you walk on are all part of a carefully maintained fishing machine, and should be treated as such.
It is always important to remember that while on board a vessel, certain care must be taken to ensure your safety. Going to any area of the vessel that might look precarious are definitely things you should discuss with your crew before attempting.
Probably the most frequently asked question on charter etiquette is the custom of tipping the crew. There are several issues to consider. Was the crew attentive to your needs while on board? Did you feel welcome and at ease during your trip? Was your fishing instruction and advice constructive and positive? In general, did you have a great time? If the answer to all these are yes, then the fish you caught were a bonus. Tipping is usually somehwere between 15-20%.
Do's

Send in the deposit as soon as you book your trip
Call when you arrive in local area to confirm departure time and give phone number.
Get plenty of rest the night before the trip
(Less partying, more sleep)
Bring your own sunscreen, seasickness remedies, coolers, hand towels and extra clothing.
Bring along at least one female for good luck
(women are good luck!)
Help the mate keep the boat shipshape. A happy deckhand will enable everyone to have more fun.
Plan on having a wonderful day
Treat the boat like your home.
Write the captain a brief thank-you not after the trip. You'd be surprise at how many of them appreciate this little nicety.

Don'ts

Wear shoes with hard soled or sandals (which are not safe) or black soles, which may leave scuff marks on the deck. Sneakers and deck shoes are preferred.
DO NOT bring drugs, hard liquor, glass bottles, shelled nuts or bananas aboard the vessel (bananas are bad luck)
Throw trash, cigarette butts or bait on the deck or in the head.
Allow children to pull open drawer and cabinets or fiddle with tackle and equipment.
Tell the captain or crew how to fish.
Demand to catch a certain size fish or a certain number of fish. Fishing is fishing, and there are no guarantees.
Expect and eight-hour trip to mean eight hours of fishing. The stated length of the charter includes running time to and from the fishing grounds.
About the Captain
Captain Bob was born in Lorain, Ohio. He joined the navy in 1943 and served on a U.S. Navy Destroyer for 3 years, earning a honorable discharge in 1947. He then went sailing on the Horace Johnson, a U.S. Steel Ore Boat. Various marine jobs after that included commercial fishing, commercial diving and a commercial towing business.
One of the first to start a charter business her in Lorain, Captain Bob soon became noted for his ability to take customers to the fish. He is well known for his boat the "Miss Majestic", a 72' drift boat. Walleye catches of 900 lb. a day or more became the norm in the 1980s. He was a close friend of ERIE DEARIE Dan. Captain Bob convinced Dan to build the one ounce ERIE DEARIE, a lure that became popular in the Central Basin.
Fishing is our only job and we work at it!!!


Introducing our new boat for the 2010 season, a 34' Baha King Cat. This boat is very fast, stable and safe for Lake Erie. We are located at Spitzers Lakeside Marina in Lorain, OH. Come take a ride with us and you'll be impressed with the size of the boat and the large cockpit with plenty of fishing room.

The Central Basin of Lake Erie has produced some fine wall hangers over the years. Our season here peaks in June and July with some seasons carrying right through the year. Our Marina has lots of fine charters, most run one trip a day. In June and July our run to the fish is short. Later in August, September and October the fish move offshore to deeper water. That is why it's so important to have a fast staable boat. We can get you to the fish fast with no hour long runs.

Call (440) 244-2621 and we will do our best to show you a great day on the lake and we guarantee you will catch fish and have a laugh or two. Captain Bob will no doubt tell you a few tales about his days in the Navy in WW-2 plus you may even want to buy his book (The Boatswains Pipe). Bob was a Bosin Mate on a navy destroyer.

The west end of Lake Erie is fantastic walleye fishing, no doubt about that. But we here in Lorain are proud of our fishing success and we invite you over to have a look, you won't be disappointed aboard our new boat, The Majestic Cat.

Have a great year of fishing and we hope you can join us here in Lorain, OH. Give us a call on the radio if you're in the area.

Cell: 440-522-6276
Home: 440-244-2621
Email: [email protected]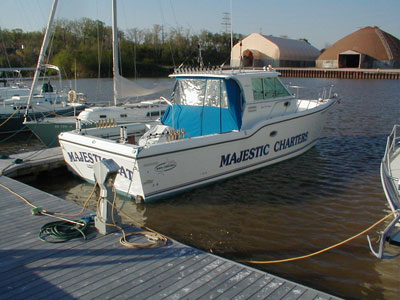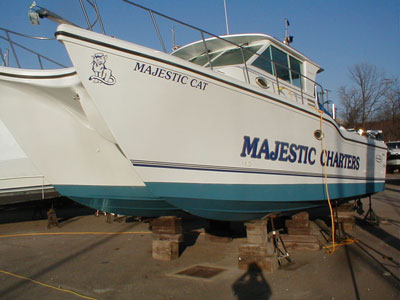 Our boat is all Coast Guard inspected and are equipped with modern up to date safety equipment, fast and efficient, we can get you the fish fast and safe. Our boat is clean and we pay special attention to having a clean rest room for our customers.




Our season starts in April at Port Clinton (call for location at 1-440-244-2621) as we dock at different docks according to the fish movement. May1 we start drift and trolling operations out of Lorain, Ohio at Spitzers Lakeside Front Marina. Fishing in the western basin is excellent with good catches, starting as early as March in some cases.

Walleye fishing in the Central Basin of Lake Erie is slow in March and April, but begins to liven up around May15th. June, July and October are best for walleyes. August and September and October are the best perch months.

For *reel* excitement, try to make a steelhead trip with us and watch them big steel head jump and try to spit the hook. Even if you don't go with us, enjoy the fishing this year and good luck.

Chartering is a BARGAIN! A person can charter several times a year for a fraction of the cost of maintaining and outfitting a boat for big water. Fishing with an experienced Captain puts you where the fish are with the most sophisticated equipment and the maximum of safety.

Soft soled shoes
Valid OH fishing License
Lunch and Beverage (no glass or hard liquor!)
One cooler per group for food and drink
Cooler to take fish home in

Sunscreen
Motion Sickness medication
Fishing Tackle for drifting (rod, reel, favorite lures, no large or metal boxes)
Camera
Proper clothing for weather
DO NOT BRING HARD LIQUOR! NO TOLERANCE FOR DRUGS!

A $100.00 deposit will be required 30 day prior to the charter date. Your Skipper makes all decisions on whether your charter leaves the dock based on the prevailing weather conditions. If it becomes necessary to cancel your charter due to inclement weather, your deposit will be refunded.

CHOICE DATES GO FAST! MAKE YOUR RESERVATIONS EARLY! ADDITIONAL BOATS AVAILABLE FOR LARGER GROUPS OR CLUB CHARTERS.

ZERO TOLERANCE. The captain has "Zero Tolerance" for illegal drugs, regardless of quantity, being carried on board. All drugs will be reported to the Coast Guard or local law enforcement authorities.

For your own safety, the Captain's word is FINAL! Charter will be cancelled by telephone in case of very bad weather.




Frequently Asked Questions

Q. Should we schedule our fishing trip for the first or last part of our vacation?

A. The first part is always better. If we have bad weather on your scheduled day it will give us a chance to re-schedule during your stay.

Q. Are the same type of fish caught in Half Day and Full Day trips?

A. Different times of the year that is true, but not always.

Q. Are Full Day trips designed for larger fishing parties?

A. The longer the trip, normally the longer the fishing time. The longer the fishing time the more fish you catch. You figure it out.

Q. We have a ten-year old boy, is he allowed to go and does he pay full price?

A. There is no age limit for customers. The prices we quote are charter prices. The price is the same for one to six customers. NOTE: Head boat and Walk On prices differ.

Q. Does it depend on the time of year for fishing results?

A. Yes and no. Some times are better to catch certain kinds of fish., but catching is generally good all year long.

Q. Can we book a charter trip at any time during the year?

A. Yes, you can try to book a trip an any time. Keep in mind that the earlier you book, the better choice you have of preferred date and vessel choice.

Q. It says tackle supplied; does that include rod and reels also?

A. Yes, all rods, reels, bait & ice are included on six pack charters.

Q. Can we bring more than six persons if some of them don't fish?

A. Yes, on head boat trips (Little Miss V). No, on the six pack charters as we are limited to a maximum of six people
(on Skipper II).

Q. Is food provided in the cost of the full day trip?

A. No. You will have to bring your own food.

Q. Can we bring food and drinks, and if so what should we bring?

A. Yes. Customers normally bring a picnic style lunch and beverages.

Q. Is beer in cans ok?

A. Yes, beer in cans is fine, as long as you limit beer to one case max. We do not allow hard liquor or glass bottles aboard the boats.

Q. Where do we park while we are on the fishing trip?

A. We have adequate safe parking at each boat site.

Q. What if it gets rained out?

A. If the captain cancels the trip because of a small craft advisory or unsafe lake conditions you will have the option of rebooking or having your deposit refunded in full. The captain will not cancel because of rain.

Q. How far out do you go?

A. We range off shore different distances for different trips. We try to decide how to satisfy our customers and do what is necessary to do that in the allotted time. Some lime more action and we stay on the reefs and some are satisfied with threat "big one". Our normal range is from six to ten miles offshore, depending on the length of trip.

Q. There are only two of us and we can not afford to pay for a full charter. Do you arrange make-up trips? Will you be able to accommodate singles? what is the Cost?

A. During the times of high tourist traffic in the area we try to put together open party trips. Some time we are successful and sometimes not.

Please email any questions you have and I will include them on this FAQ list.

YOUR ENJOYMENT IS OUR NUMBER 1 CONCERN!!

Private parties are welcomed!!!!
Walk on or private charters
Drifting and trolling parties Available to 6 passengers
Spring and Fall Perch Trips Available
Call for Information
8:00am to 1:00pm
1:30pm-6:30pm

* Majestic Charters Video is now available on Lake Erie Walleye Fishing- $15.00 Featured on national T.V. Many stories and Press releases also.*




| | |
| --- | --- |
| | |
| | |
| | |
| | |
Counter