Order Your Official
Lake Erie Walleye Fishing Maps Today!
To Order, call 1 800 347-4519 or click below to order online!




New Central Lake Erie Maps

Coverage from Ruggles Beach to
Geneva, OH

Coverage from Ashtabula, OH to
New York State Line
Western Basin of Lake Erie on CD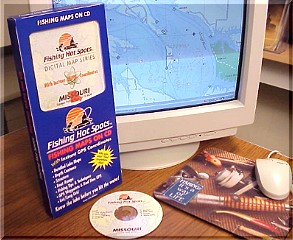 Only $29.95 each....

This new Digital Map is a powerful tool for the fisherman of the NEW MILLENNIUM. Not only do you have the latest, detailed lake map of Erie's famous Western Basin, you have a GPS system that instantly allows you to pinpoint coordinates. You can easily plot, label and log any GPS waypoint.
A simple click of your mouse puts you in command of an on-screen navigator designed to show where you are on the map at all times. The map features depth contours, structure, boat ramps, an active lat/long grid plus online fishing tips and techniques and valuable lake information.
A great tool for planning Western Basin trips as well as for logging previous trips for reference later.
Minimum System Requirements:
- Microsoft windows 95/98 - Intel Pentium 66mhz processor
(200 mhz recommended) - 16 mb RAM (32+ recommended)
- 2x CD-ROM - Video Card -20 megabytes of hard disk space