Lake Erie Walleye Magazine
Lake Erie Walleye Magazine covers the complete fishing scene on Lake Erie and is printed each spring, summer and fall. Each issue focuses on the seasonal biology and ecology of walleyes, smallmouth bass, perch and other species in Lake Erie, as well as providing inform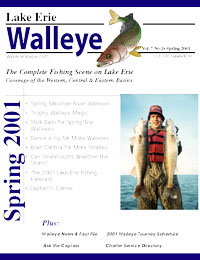 ation aimed at helping fishermen catch more fish.
"Our goal from the beginning has been to promote sportfishing on Lake Erie and give the walleye fisherman as much scientific and practical information as possible," said Rick Kubb, editor and publisher. "By limiting print advertising to a low percentage of the total pages we can provide more walleye reading per page than is typical in many outdoor magazines."
Kubb, a former Fisheries Biologist and native of Northeastern Ohio, started the magazine as a hobby and as a way for him to travel often to Ohio to fish for walleyes. You see, Kubb currently lives over 600 miles from Lake Erie, in St. Louis MO. "Over the years, some have questioned our ability to publish good and accurate information about walleye fishing on Lake Erie from St. Louis. With computers, the internet, fax machines and with the assistance of Fisheries Biologists, Charter Captains and a great editorial staff of professional walleye fishermen and knowledgeable outdoor writers, the job is actually quite easy," says Kubb, who frequently travels to the shores of Lake Erie to fish with captains and visit with biologists. "The Fisheries Biologists at the Ohio Division of Wildlife and Ohio Sea Grant have been particularly helpful in providing good solid fisheries information and expertise. We enjoy sharing with our readers the fisheries work that the Ohio, Michigan, Pennsylvania, New York and Canadian Biologists have conducted over the years," said Kubb.
Each issue offers several feature articles by well known walleye experts including. Regular columns in each issue include the "Walleye News & Fact File", "Ask the Captain", "Captain's Corner", "Equipment & Tackle News", "Walleye Tournament Schedules and Results" and more. An informational directory of Professional Fishing Charters is also included in each issue.
Each issue of the magazine is also posted to the walleye.com web site, along with back issues. Subscribers to the magazine receive a password to access the current and past articles online.
Fishermen can learn more about the magazine by visiting the Lake Erie Walleye web site at www.walleye.com. There, they can view past issues and can request a subscription to the magazine. Lake Erie Walleye magazine is available by subscription only and costs $10.00 per year. Fishermen can also call their toll free number at 1 800 347-4519.