Post-Spawn Walleye Tactics
By Richard Martin
Some anglers say that anytime is a good time for Lake Erie walleyes, and that's true up to a point. Fishing can be very good early in the season when fish are heading for the spawning grounds and sometimes good during the summer, though last year July and August were poor. Autumn fishing can be well worthwhile too, especially at night on the piers, and winter action through the ice is often excellent.
But there's a best time to go, the top time to fill a limit in a hurry with substantial fish, and that's after the spawning runs when walleye are still gathered in large schools and hungry. Very hungry. It's not always great at first. Weather deciding, Erie walleyes usually spawn in mid to late April and are usually finished by the first week in May.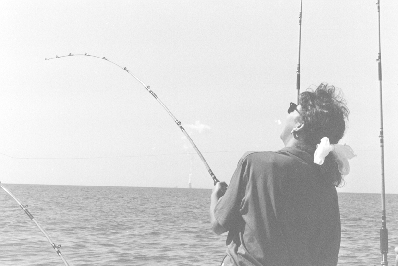 They're off the spawning reefs and out of the rivers, but their stomachs are still shrunken from a long period without feeding, and they initially aren't very interested in hard strikes and large meals.
I found this out the hard way on a charter trip just east of Toledo two years ago. Four of us and the captain were fishing a spoil bank near the ship channel, and the fish were definitely there. His screen showed a layer of walleye extending from near the bottom to 15 feet below the surface. Hundreds of them!
We started casting half ounce jigs with twister tails and a worm dressing, but nothing much happened. Bites were gentle, just taps or slight resistance, and we followed Standard Operating Procedure by striking, then dropping the bait back hoping for another try. In 45 minutes we had just two fish in the box.
All five of us were switching offerings by that point, trying this and that, different colors and speeds, then one of our group tied on a stinger hook. He caught fish after fish. At that point we all did the same, hooking the trailing nightcrawler in its end, and striking at any change. our box was filled in less than an hour. The walleye that day just weren't ready for serious feeding and instead of wolfing the bait, swam behind and nipped off the crawler tail. The stingers made all the difference that day.
But within a couple of weeks they're on the feed again, filling up wasted stomachs to build up fat lost in spawning, and it can be an anything goes proposition. Last year I made another trip in late May, this time on the Sassy Sal, a head boat based in Port Clinton, and it was a whole new ball game.
Again, I was using half ounce jigs with twister tails, either chartreuse or yellow, and I'd learned my lesson enough to have a stinger hook perched in the crawler. But it wasn't necessary. We found a big school west of Port Clinton, anchored, started casting, and almost immediately rods were bending all over the boat. This time the school was hovering between 10 and 20 feet below the surface, this on a clear, sunny day with a good one foot walleye chop.
I hooked one on my first cast, the jig taken before it made it down through the school. And another on my third toss. Fish were not only hitting with abandon, they were following hooked fish to the surface, often several at a time, trying to pull the bait from a hooked mouth.
It didn't take long to learn to leave a catch in the water while several surrounding anglers dropped jigs into the cluster. My last fish literally came out from beneath the boat to hit just a foot below the surface.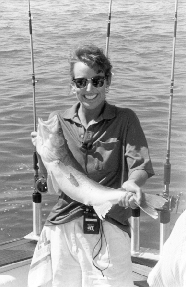 That was a red-letter day, and it can happen often during the post spawn season.
Anchoring and casting jigs is a favorite technique among head boat captains, and it works fine. But charter boat captains taking out their half day or full day 116 packs" more often opt for trolling, especially if the sports along aren't expert fishermen. When trolling starts, they, 11 almost invariably are dragging bottom bumpers and worm harness if the fish are holding low, close to the bottom. Many private boat owners do exactly the same.
Bottom bumpers are basically just a slim sinker with a pencil-like bottom to keep it out of the rocks, a three-way swivel, several feet of monofilament and a spinner and worm harness. it's a lethal bait when they're down. Most captains favor small spinners, and favorite colors are chartreuse, red, yellow, and blue and white in about that order. But if rains have come and the water is a little murky, a larger blade produces more flash and visibility, so keep a modest selection of these and use them all until something works.
If fish are holding high, both captains and private fishermen should have a selection of trolling lures that are routine producers. Hot-n-Tots are much used as are WiggleWarts and other crankbaits that have large lips and a tendency to dig deep. Favorite colors again are chartreuse, red and white, fire tiger, and sometimes multicolored offerings and pure silver or gold. Again, it's a matter of switching and switching again until something perks their interest.
By late May or early June with the water warming fast, most anglers turn to tossing weight forward spinners, though the bottom bumpers still produce when they're deep. Then it's a "nothing to it" business. Cruise around in a private boat, charter or headboat, find a school that's usually 15-20 feet down and either anchor or drift across the school tossing spinners in all directions. Strikes come quick in most cases, and many a boat will fill its limit in just an hour or two. Again, and no surprise by now, top colors for the Erie Dearies and similar lures are chartreuse, red, red and white, chartreuse and yellow and sometimes blue and white.
Where do you toss those lures whether it be May or early June? Top spots are again near the ships channel off Toledo, and off various reefs. Among the best producers are Niagara and Cone reefs, off Gull Reef, between South Bass and Kelleys, north of Rattlesnake, the list goes on and on. with a charter or headboat, don't even ask. If fishing on a private craft, stop in at any bait shop like Rickard's on Catawba Island and ask, "Where are they hitting?" They'll have answers.
There are times, even during this prime season, when fish get a little picky. That's most often on bright sunny days, when winds are calm, and/or after storms that stir the water and send barometers bouncing. That's when it's wise to go to Plan B for a decent catch. Too many Lake Erie anglers spend all day mindlessly tossing weight forward spinners, or long hours bottom bumping or trolling crankbaits with little or no result. if the fish are biting, that's fine, but if they're touchy, try something else.
I've had days when lack of action would see me turning to jigs again. When a fish has seen a few hundred weight forward spinners, something different can perk their interest. I've tried jigging spoons tipped with emerald shiners too, sometimes with no success, sometimes with good. Or used a Lindy rig when nothing else was working. A Lindy rig is basically a slip sinker, swivel, two feet of line and a small hook, maybe with a brightly colored bit of balsa wood (floating Lindy) in front for eye appeal.
The rig is dropped to bottom with a fat nightcrawler head attached on lines end, and fished with an open bail. When a strike comes, however gentle, release line for a 10 count, then tighten up and strike. It can be a lethal weapon for walleye when they're being touchy about what they eat, and lying with their bellies practically in the mud.
If Lindy's have a problem, it is that they also target other species. I've caught walleye, smallmouth bass, channel cats, sheepshead, white bass, white perch, yellow perch, even carp on the rigs. But a good mixed bag can be a welcome change, and I don't mind.
Here's a final thought for post-spawn walleyes, and you might or might not disagree. I've found over 30 plus years of fishing this big lake that large fish are generally poor eating, while chunky little 1 1/2 to 3 pound fish are absolutely excellent. So, when I catch a 6 pounder, an 8 or a 10, I return them. They're usually females and better for spawning than keeping, unless an angler wants to hang one on his wall.
Admittedly, I've tried everything, since some days good eaters are hard to come by, and big fish easy. I've filleted them, cut out the center streak, and sliced the thick fillets lengthwise to make them thinner. I've soaked fillets in milk overnight to hopefully remove that fishy tasty, and my wife has tried various marinades from outdoor cookbooks. The BEST I've ever done on a big fish is make it decent eating, not delicious, not great, just decent. So, I just don't keep them anymore.
Again, whatever your choice of lures, fishing spots, and cooking tactics, Lake Erie walleyes are waiting in hundreds of thousands. And the best time to take them is post-spawn.