Sun Chaser Sport Fishing Charters
Captain Ron Lamont and Captain Mike Matthews
4860 N. Crestridge
Toledo, Ohio 43623-1018
1 888 811-8053
(419) 262-9400 (boat phone)
(419) 266-1015 (Capt. Mike's Car Phone)
(419) 898-1974 (for Lodging info)
e-mail:

[email protected]









Catch the Fishing Fever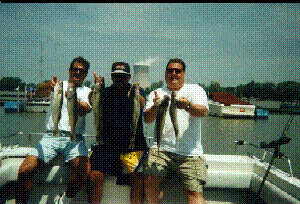 Be prepared to enjoy a memorable occasion aboard our 30' Sportcraft Hardtop, The Sun Chaser, docked at the Lamberjacks Marina, in the Heart of the Walleye Capital of the World.
You'll be on board with our U.S.C.G. licensed captains, Captain Mike Matthews and Captain Ron Lamont. They are also Ohio licensed guides and members of the Lake Erie Charter Boat Association.
We provide you with all the latest in electronic fishing and navigation equipment.
G.P.S.

Video Fishfinder

Ship to Shore Radio

Depth Sounder
To add to your comfort and peace of mind, we have all coast guard approved safety equipment and cellular phones for emergencies.
We're on the waters from early April thru late Fall! All times are local Ohio times. We offer charters for six people or less.

Our Rates
Basic Trip .........$400.00
Customers furnish bait, ice, and tackle
Full Service Trip ............. $450.00
We furnish all fishing equipment including bait, ice, lures. Customers need only bring their license, food and beverage

Custom Trips ...........$ Please Call
We will design custom trips to suit your needs, including Canadian trips
Note: All trips require a $100 deposit

Custom Video
We offer a custom video of your fishing excursion, available by advanced request

Call Now!
Sun Chaser Sport Fishing Charters
1 888 811-8053