Doug's Charter
Fishing Service



Specializing in Walleye,
Bass
Trout & Salmon

Lake Erie, Lake Ontario
and
the Niagara River

(716) 774-0077
email:stein

[email protected]

Fish Aboard a 28ft. Baha Sportfisherman
10 1/2 ft. wide w/Twin Inboards
or
Fish Aboard our 20ft. Lund Alaskan

All Tackle and Bait Supplied

WE FISH YEAR ROUND!

FULLY LICENSED AND INSURED

SPRING - SUMMER
Fish Lake Erie for walleye & bass.
Fish Lake Ontario for salmon, steelhead and lake trout
aboard the 28' Baha Sportfisherman

2 Person Charter 8 hrs. $300.00
3 Person Charter 8 hrs. $360.00
4 Persons $420.00
5 Persons $480.00
6 Persons $540.00
2 Person Bass Charter 6 hrs. $240.00
3 Person Bass Charter 6 hrs. $300.00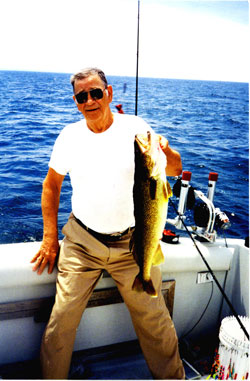 FALL
Salmon & Brown Trout
2 Person Charter 6 Hours $240.00

We are now booking Lower Niagara River (Devil's Area) trips for trophy salmon
September & October Only
WINTER-SPRING
Drift fish the Lower Niagara River for
Trophy Steelhead, Brown Trout and Lake Trout.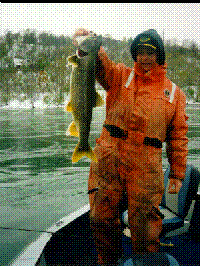 2 Person Charter 6 hrs. $240.00
3 Person Charter 6 hrs. $300
We Promote
USCG Drug Free Regulations
For Information and Reservations
Phone (716) 774-0077
Captain Doug Stein
1877 Huth Road
Grand Island, N.Y. 14072

---
A Letter from the Captain
Hello There:
Welcome aboard. Let me share with you a few details regarding our fishing charter service. We typically spend April and May in the lower Niagara River at Williams Marine. This is at the mouth of lake Ontario where we are highly successful in catching salmon, steelhead, brown trout, and lake trout. These fish for most people are the fish of a lifetime. The lower Niagara River is Lake Ontario's largest tributary. It could possibly be the best freshwater fishery in the world in that it holds all species of warm and cold water freshwater fish. Most of these can be caught in record numbers and sizes.
From June till October we are docked at Chadwick Bay Marina in Dunkirk, New York. It is at this port our key fish is walleye. We are very successful in providing a good days catch of walleye and Lake trout.
Our smaller boat is used to fish the lower Niagara river in Winter for trophy steelhead and lake trout. This fishery is second to none for the amounts and sizes of these fish.
In the summer we fish for bass in Lake Erie. It is here that from May - October the bass fishing is fantastic.
We provide an enjoyable and sometimes a day to be remembered for the rest of your life.
We provide all safety and fishing equipment along with whatever bait is to be used. We also package the fish in any form to your liking. Most of our charters are full day, but half day packages are also available.
We look forward to serving you sometime soon!
Regards,

Captain Doug Stein