Michigan Stinger Spoons
The Michigan Stinger "Scorpion"
Lake Erie Top 20
These are the top selling scorpion spoons for 2004 on Lake Erie according to Advance Tackle, maker of the famous Michigan Stinger Spoons.
ORDER NOW! Toll Free 1-800-347-4519
1 - XCH59
(Monkey Puke)

2 - XCH78
(Confusion)

3 - XCH80
(Bloody Nose)

4 - XCH73


(Green Puke)



5 - XCH61O
(Orange Dolphin)

6 - XCH198
(Purple Headed Wonderbread)

7 - XS9
(Rainbow Trout)

8 - XCH105
(Mass Confusion)

9 - XSH60
(Kervorkian)

10

–

XCHYJ
(Yellow Jacket)

11

–

XBBM
(Blueberry Muffin)

12

–

XSHRIMP
(Shrimp)

13 - XCH61
(Raspberry Dolphin)

14 - XCU104
(Hawg Wild)

15

–

XCUCD
(Cat-Dog)

16

–

XCHCW
(Chicken Wing)

17 - XG4
(Perch)


1

8 - XCH125
(Mixed Veggies)

19 - XCH126
(Metallic Superman)


20 - XCU69W
(Lorraines Tan Lines)

Charter Captains all across the Great Lakes as well as serious walleye, steelhead and salmon fishermen have made Michigan Stinger spoons an important part of their spoon arsenal.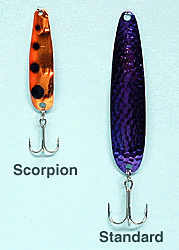 There are two types of Michigan Stinger Spoons
Michigan Stinger spoons have become a standard for Great Lakes Charter Captains and serious walleye, trout and salmon anglers. The standard size Michigan Stinger was developed to target cold water species. However, they have proven to be very effective on Walleye and other species.
The Scorpion style is the smaller version (2 1/4 in.) of the Michigan Stinger spoon and are primarily designed for trolling. These spoons are deadly for Walleye, and they have become more popular with Trout and Salmon anglers especially when small baitfish are encountered.