Diving Planes for Erie 'Eyes
by Mark Hicks


Order Lake Erie Walleye Magazine
Three Information-Packed Issues for only $10.00
Delivered to your doorstep every March, June and September
C

aptain Bob Troxelís first experience with diving planes illustrates why these trolling devices should be mainstays for every Lake Erie walleye angler. The outing took place on a hot July afternoon several years ago.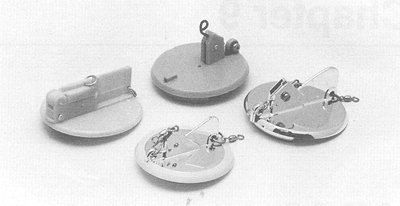 Drift fishing with weight-forward spinners had slumped badly after the peak early summer season. Faced with markedly clearer water due to the zebra mussel invasion, Troxel conceded that he would have to adopt trolling methods to catch boat-shy walleyes in deep water.
Heading his 30-foot cruiser, "This Is Reality," out from Foxhaven Marina on Catawba Island, Troxel and two friends boated west of Rattlesnake Island in the western basin. When the graph began marking fish near the bottom in 32 feet of water, they put out four brand new diving planes matched with spoons fresh out of their colorful packages.
"I really didnít know what to expect," says Troxel. "But I didnít

have much time to think about it. In two hours we landed three limits of big walleyes, including one over 11 pounds. It was unbelievable."

The relatively low cost of diving planes, plus the fact that other anglers were enjoying excellent results with them, figured into Troxelís decision to try this method of trolling. He still relies on the same brand of diver he started with-Luhr Jensenís Dipsy Diver.

ESSENTIAL DIVERS

Available in three sizes that run at depths ranging from 14 to more than 50 feet, the Dipsy Diver is built around a hard plastic disk. The larger two sizes

.. ...........................

......... to complete this article you must be an active subscriber. With your subscription you'll receive password access to the Subscribers Only web site where you can enjoy hundreds of fishing articles from the current and past issues of the magazine, all ONLINE. In addition you'll have Lake Erie Walleye Magazine delivered to your home. All this for only $12.00/year.

Subscribe online here. You can also call our toll free number at 1-800-347-4519 to subscribe today!