Erie Innovation for Walleyes
by Mark Martin


Order Lake Erie Walleye Magazine
Three Information-Packed Issues for only $10.00
Delivered to your doorstep every March, June and September
R

ight now, as hard-core trolling tactics are in full swing every place on Erie, I'm armed with a selection of dependable lures that are excellent alternatives. For simplicityıs sake, and to offer a straightforward strategy for success, Iıve come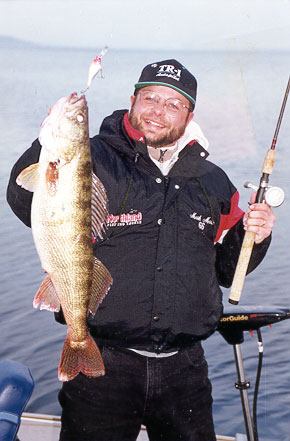 up with three of the most effective lure and bait styles that will do the trick around the reefs and river mouths when the trolling bite isn't working out. Or even if it is, these tips and tricks can serve as backup plans when the wind blows or if youıre in a smaller boat without the full assortment of trolling gear. Whenever youıre around walleyes, it pays to break out the jigs, body baits and a dead rod. Now is the time to adapt them to Erie.

Jigs

Of all the jigs on the market, none is more effective or versatile than the Northland Fire-Ball. They come in sizes from miniature to magnum, giving you the ability to cover all depths and drop speeds. And theyıre perfect for snap-jigging, vertical jigging in rivers and lakes, casting and dragging, any

way you want to fish them. Though they are round jigheads, they excel even in current because of the slight keel shape of the head, which makes them track straight in running water. Fire-Balls are large for their weight,too meaning a 1/16th-ounce specimen is bigger than a lot of regular 1/8th-ouncers, and have bigger, more dramatic profile fish like.

More than anything, the Fire-Ball is a live-bait jig, since it comes without a keeper collar to hold on plastics. I use them with minnows, leeches and half night crawlers. In springtime, I turn to a few tricks to catch more fish. When I know a bunch are beneath me, I often bait up with two small minnows, one hooked upside down, the other right side up. This gives you a pair of minnows in the shape of a V for a more enticing profile. And if

walleyes are striking short, if one does rob you of one of the minnows, it will often turn around and grab the remaining bait. Something to remember.

Iıve seen the technique work time and again on the reefs of Erie's Western Basin. You might feel the first hit and miss, but often the same fish, or maybe a different one, will pounce on it harder the next time. For an added trick, every once........ ..

......... to complete this article you must be an active subscriber. With your subscription you'll receive password access to the Subscribers Only web site where you can enjoy hundreds of fishing articles from the current and past issues of the magazine, all ONLINE. In addition you'll have Lake Erie Walleye Magazine delivered to your home. All this for only $12.00/year.

Subscribe online here. You can also call our toll free number at 1-800-347-4519 to subscribe today!