Precision Jigging
by Ted Takasaki & Scott Richardson


Order Lake Erie Walleye Magazine
Three Information-Packed Issues for only $10.00
Delivered to your doorstep every March, June and September
T

rolling is usually the ticket when it comes to catching walleyes on the Great Lakes. Spreading your lines and sifting through large areas of water fast will often connect you with active fish. But, trolling is not always the answer. Sometimes the situation calls for a presentation that lends itself to pinpoint accuracy. That's when it's time to turn to a jig.

The decision on which presentation to choose – jigging vs. trolling - is dictated by how the walleyes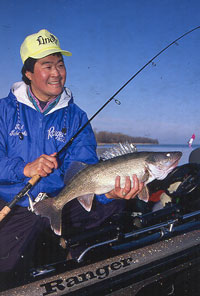 are relating to structure on any given day. Using electronics will tell you all you need to know before you ever wet a line. Just ask yourself one question as you watch the fish marks move across the sonar screen. Are walleyes dispersed over huge areas or are they tightly schooled and holding close to reefs, points, rock piles or weeds? Then picture which method, trolling or jigging, will keep your bait in front of the most fish for the longest period of time.
Using this simple analysis, it becomes clear that trolling does the trick for walleyes that are scattered or suspended. This is normally true in the warm, summer months when walleyes are on the move in search of suspended baitfish. Vary the choice of crankbaits and the amount of line out or use a combination of snap weights and Lindy X-Change bottom bouncers with Hatchet Harnesses and live bait to cover the water column from top to bottom. In-line planer boards can spread your lines to cover a wide path.
Experience has taught us that walleyes will often hold tight to the bottom in small groups on the largest bodies of water. Rock piles, humps and reefs act like magnets in spring and fall or when cold fronts strike in places like Lake Erie's Western Basin or Little Bay de Noc. At other times, walleyes will hold in dense cover, like the weed beds of Saginaw Bay. In all of these cases, trolling would put baits in the fish zone for only brief moments. You'd spend more time turning the boat around to make another trolling pass than you would actually fishing. On the other hand, specific spots can be worked precisely with a jig. Your bait will stay in front of a walleye for longer periods of time.
Here's how

Doing your homework before you launch is an important ingredient to success on any fishing trip. But on the Great Lakes, information gathering is absolutely critical. There's just too much water to have to search by yourself when armed only with sonar and a ......
......... to complete this article you must be an active subscriber. With your subscription you'll receive password access to the Subscribers Only web site where you can enjoy hundreds of fishing articles from the current and past issues of the magazine, all ONLINE. In addition you'll have Lake Erie Walleye Magazine delivered to your home. All this for only $12.00/year.
Subscribe online here. You can also call our toll free number at 1-800-347-4519 to subscribe today!