Steelhead Madness on
Lake Erie
by Jeff Frischkorn


Order Lake Erie Walleye Magazine
Three Information-Packed Issues for only $10.00
Delivered to your doorstep every March, June and September
S

teelhead trout are expected to again give Lake Erie's walleye a run for their rainbow smelt. No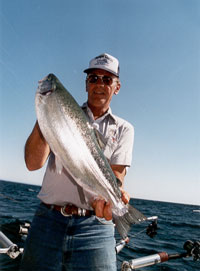 one knows this likelihood better than does Ron Johnson, a charter captain from Painesville and whose base of operations is the Grand River. "I bet we caught between 600 and 800 steelhead last year," said Johnson. "It was, by far, the best steelhead fishing that wešve ever seen. It was phenomenal."

Officially last year Ohiošs Lake Erie boat fishermen caught a projected 33,524 steelhead. That figure is the second highest ever recorded; the highest being in 1993 when an estimated 34,000 steelhead were taken.

Though Johnson said he and his customers still took more walleye than steelhead last fishing season, on more than one occasion it was the steelhead that saved the day.

"Išd say the ratio was something like three walleye for every steelhead but that is still impressive since we targeted walleye and not trout," Johnson said. "Had we gone after steelhead exclusively

.............

......... to complete this article you must be an active subscriber. With your subscription you'll receive password access to the Subscribers Only web site where you can enjoy hundreds of fishing articles from the current and past issues of the magazine, all ONLINE. In addition you'll have Lake Erie Walleye Magazine delivered to your home. All this for only $12.00/year.

Subscribe online here. You can also call our toll free number at 1-800-347-4519 to subscribe today!