Lake Ontario
Salmon Fishing
Salmon fishing at it's absolute best.
Record fishing 2 years in a row.
July-September
Capt.Frank was invited in 1980 to go on his first Salmon Trip to Lake Michigan, out of the Port of Michigan City, Indiana. This big, fighting, game fish was exciting and had the Top Gun Captain returning for many years fishing with some of the top captains out of St.Joseph, Ludington, Mich, Manistee, Mich, and all the way to the northern peninsula to Traverse City to learn different techniques used to catch these trophy fish. When the State of NewYork introduced Salmon to Lake Ontario, and the fish were bigger and more plentiful in the mid '80s.
Capt.Frank took his knowledge, techniques learned, and the Top Gun to Lake Ontario, where he now fishes from mid July to the end of September.
The 1st Mate, Chad Godina, Capt. Frank's 20year old son, has fished the Great Lakes with his Dad since he was 5 years old and has been with the business since day one, completing the requirements of the United States Coast Guard to be a 1st Mate. Chad is a member of the North Coast Charter Boat Association and is very knowledgeable about the Walleye, Smallmouth, and Salmon fishing techniques.
Chad will be a Junior at Edinboro University this Fall and he is currently in the Pennsylvania National Guard and participates in weekend drills and 2 weeks of summer camp, but anytime he is available, he will be on the boat.
When Chad is participating in drills and camp, Cory, the up-and-coming younger brother, will be filling in between his particpation in basketball and football campus. It's a big plus having them on board to assist you in your catch and making your day on the water enjoyable.
Let us welcome you aboard at Town of Newfane Marina, located at5834 West Main St, Olcott, NY, on 18 mile creek. Just 45 minutes east of Buffalo,½ hour from Niagara Falls, 220 miles from Pittsburgh or 191 miles from Cleveland.
All tackle and equipment
will be furnished.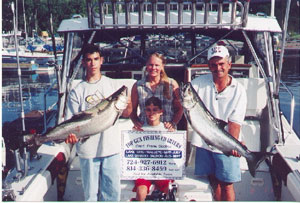 "Capt. Frank (right)
1st Mates, Chad (left) & Cory &
Life Mate, Geri."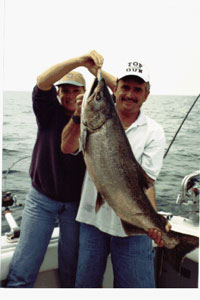 Chris, from Millersport, OH with monster King!

Jason, from Pittsburgh with a nice King

Bucky, from Lake Orion, MI with trophy Brown Trout
What to bring
New York Fishing License
Jacket & Hat
Soft White Soled Shoes
Rain Gear
Sunglasses/Sunscreen
Lunch/Beverage(no Bottles)
Camera
Dramamine(Sea Sickness Med)
Cooler for Fish(leave in car)
CHARTER RATES
Salmon & Steelhead fishing- $520.00/day
9 hours, up to 6 people
Executive trips available upon request.
Lodging information forwarded with booking.