The Captain's Corner
by Rick Kubb, Editor



Order Lake Erie Walleye Magazine
Three Information-Packed Issues for only $10.00
Delivered to your doorstep every March, June and September
W

hat do limousines and charter fishing have to do with each other? Just ask Captain Tim Garrett of Aqua Fantasea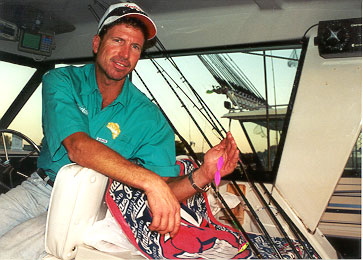 Fishing Charters. This past fall Lake Erie Walleye Magazine had a chance to visit with Captain Garrett and learned much about both his charter fishing business and the limo business. You see, in addition to his charter business Captain Garrett owns and operates Renaissance Executive Limousine Service, Inc. More on that later but let's first talk fishing with Captain Garrett.

Tim began chartering 9 years ago but has fished Lake Erie for over 30 years. The home port for Aqua Fantasea Fishing Charters is Grand River, Ohio. Tim is a member of the Grand River Marine Charter Group. The group is composed of 10 charter captains that all dock together in the Grand River which runs between Grand River and Fairport Harbor, Ohio. You might call it "Charter Row" as you look down the expanse of docks you see nothing but large charter boats and loads of professional fishing gear extending from each of the vessels. Within site of the dock area there is a full service Marina some small shops and several good seafood restaurants including "Pickle Bills" and "Brennan's Fish House". It's a charming location and in the summer months the captains keep 'reel' busy. Watching the boats come into port in the late afternoon can be a treat in itself as the Captains proudly display their catches and happily visit and share the fishing information for the day with just about anyone who happens by.

The charter group is close knit and works together sharing information among themselves so that all of the captains have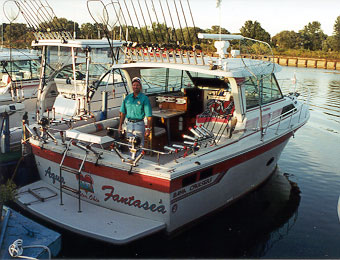 an opportunity to fish the same productive areas in the summer months off of Grand River. You'll see this group together at the various winter sport shows as well.
Each year Captain Garrett runs between 75-100 charters. During the busy times he'll share charters with his brother Jim Garrett, also a charter captain affiliated with the Grand River Marine Charter Group.
The Grand River is located in the heart of the central basin of Lake Erie. In the summer months walleye fishing in this area means deep water trolling for trophy sized walleyes. Fish in this area of the lake are routinely between 6-8 pounds.
Fishing this style requires lots of gear and Captain Garrett certainly has the boat and equipment to get the job done. He runs a 32' Baha 310 Sport Fisherman with twin 454 Volvo gasoline engines. It's a fast boat that can get to the various fishing spots quickly with a smooth ride. The boat is fully rigged with the latest electronics and fishing gear. He runs a Garman model 128 GPS system, a Raynav 510 Loran C navigator, Simrad Radar with 50 mile radius, a Raytheon V400 color echo sounder fish finder. This is a neat device which color codes the fish. Perch show up as red clumps while the larger walleye are displayed as oval red shapes. The baitfish are indicated in a blue color.
An important piece of equipment, particularly in the summer months while fishing deep water is the Fishhawk 840 thermo troll computer.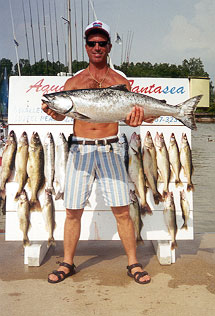 This equipment uses a 'drop down' ball that measures surface speed and temperature along with the temperature and speed and any given depth. With this system the captain can easily find the thermocline and measure current speeds which are important when setting up for a troll. Captain Garrett also runs a Cetec Benmar CS21sk Autopilot system.
On a typical troll, Captain Garrett runs 16 rods. He puts out 4 planer board rods each on the port and starboard sides. He also runs 3 large dipsy rods off of each side. He completes the rigging with two downrigger sets off the back of the boat. On most days the captain trolls at about 1.6 knots surface speed with the bottom speed going as high as 2.1 knots.
With the planer boards, captain Garrett will often use Jet Divers especially in the spring months when fish are higher in the water. He puts them back as much as 300 feet to get the bait as far away from the boat as
possible. His dipsy's are located at different depths and are typically set at 25' (#1 setting), 35' (#2 setting) and 50' (#3 ½ setting). To get to the deepest depth he'll run them as much as 220 feet back. Captain Garrett runs exclusively St. Croix rods (6', 8' and 10') depending on conditions and the setup with Daiwa reels with line counters.
Captain Garrett stocks a full arsenal of body baits, spoons and worm harnesses that he runs at various times of the year. In the spring months, before the thermocline sets up he'll use a combination of body baits and spoons as fish are higher in the water column (20-30' depths). As summer progresses (Mid-June through July) the captain will switch over to mostly spoons and fish deeper (30-45'). Among his favorites are the smaller scorpion 'stinger' spoons. By the end of July and into August he'll use more worm harnesses and go even deeper (45-60') as the thermocline moves deeper. During this time there tends to be more bait fish in the water which makes the worm harnesses effective. His favorite is a pink colored harness. Last summer he brought in a 14 pounder measuring 34 inches using the pink harness. I guess that sort of catch would make a pink lure anyones favorite.
Now, back to Captain Garrett's other interest, the limo service. Running a charter business and a limo service concurrently keeps him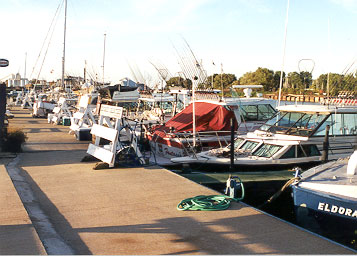 plenty busy. With cell phones, call forwarding, beepers and other electronic devices, Tim can stay on top of both ventures. In the short time that we visited, the captain booked two limo service runs via his cell phone.
Unique to Aqua Fantasea Charters, the captain Garrett offers an executive service for out-of-town guests which includes custom limousine service from the airport to the customer's choice of nearby hotel. Each morning the customers are picked up via luxury limousine and driven to the dock. At the end of the days fishing the guests are then taken back to the hotel. Boy, what a way to fish!! Captain Garrett can be reached at (440) 257-3231 or (216) 319-5847.