BOYTIM
CHARTER SERVICE
LAKE ERIE
WALLEYE
PERCH BASS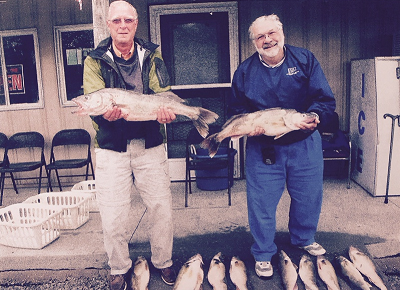 FISHING THE WESTERN AND CENTRAL- BASIN OF LAKE ERIE
FROM THE MARBLEHEAD PENINSULA
OHIO AND CANADIAN WATERS
APRIL THROUGH OCTOBER
BOYTIM CHARTER SERVICE
NED BOYTIM
502 E. MAIN STREET
MARBLEHEAD, OHIO 43440
(419) 798-5445
Toll Free: 1-877-798-5445
www.walleye.com/boytim.htm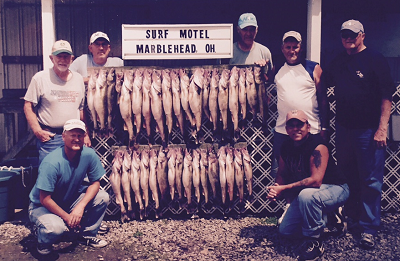 Ken Rushton Group
Glenwood, Indiana
-----------------------------------------------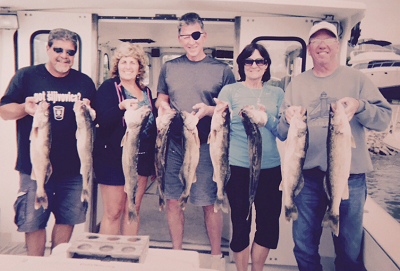 Jim Fox Group
Columbus, Ohio
A Note From the Captain
Hope things are going well. We are doing fine here in Marblehead. The frigid temperatures have frozen our west end of the lake and ice fisherman are taking advantage.
The Ohio Division of Wildlife tells us that winter ice cover results in a better spring walleye hatch. That was the case in 2014, 2015. In 2016 and 2017, we had little ice and marginal hatches. It will be interesting to see if the pattern holds this spring.
We had a decent walleye season last year. Like the previous year, we caught a lot of under-sized fish. On one of our trips, we had a 42 fish limit with another 230 released. On a few other charters, we released 100+ fish. In August and September, we had a number of excellent walleye trips around Kelly's Island.
The Perch and smallmouth bass fishing was productive last season. We had nice perch charters and very good size fish. The smallmouth fishing around Pelee Island was excellent as it has been the past few years.
Our boats will again be docked at Schrock's Marina and prices remain the same as last year. If you are interested in a trip you can reach us at tool free 877-798-5445 or
419-798-5445.
Take Care.
Your Skipper.
THREE FULLY EQUIPPED AND
INSURED BOATS
| | | |
| --- | --- | --- |
| "EMILY-K"-32'BHM | "ANNA"-28' Bertram | "BETHANNE"-32' BHM |
ALL THREE BOATS ARE DOCKED AT
SHROCK'S MARINA.
8725 East Northshore Blvd., Marblehead, OH

U.S.C.G. Licensed Skippers
Ohio Licensed guides
____
Fishing One trip per day
7 DAYS A WEEK
Trips Last 10 Hours or Limit, 6:30 am - 5:00 pm
(Walleye Limit- 6 per person)
(Perch Limit - 30 per person)
(Smallmouth Limit- 5 per person)

Normal Departure Time - 6:30 a.m.
Other times may be arranged
Fish Cooler, Ice, Bait & Tackle Provided
Toilet Facilities On Board

Best Fishing Times
Walleye - April thru Oct.
Smallmouth Bass - July thru Sept.
Perch - Aug. thru Oct.
CHARTER RATES
(6 persons or less)
$660/day ....... Walleye * Bass * Perch
(or any combination walleye-bass-perch)
$100 ........... Deposit required on each trip.
Reschedule or refund due to poor weather.
EXECUTIVE CHARTER
$840/day .............Includes poles, lures,
bait, ice, lunch, beverage, and
fish cleaning.

Night Walleye Charters Available



Frank Hill Group
Powell, OH

Bill Hohman Group
Marietta, OH


Larry Minges Group
Okeana, OH

Ken Rushton Group
Glenwood, IN
Walleye Limit, 193 lbs
Catch included 4 "Fish Ohio" Walleye (28" to 30")

Dean Howard Group
Port Clinton, OH
Walleye Limit, 164 lbs
1 "Fish Ohio" Walleye

Don Wessll's Group
Oberlin, OH
42 Walleye, 174 lbs
3 over 28"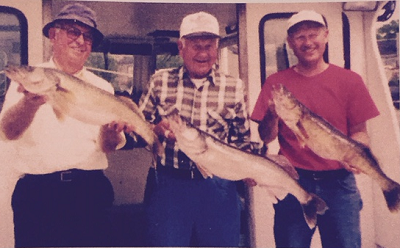 Skippers Lyle, Bob and Ned
WHAT TO BRING
Canadian or Ohio fishing license.
Spin or bait casting rod and rell with 8-12lb test line
Small tackle box
All lures and bait furnished
Soft soled Shoes
Hat, jacket, sun glasses, rain gear
Suntan lotion, motion sickness pills
One cooler for lunch and beverage
Cooler to take fish home
Camera

IMPORTANT NOTE: Fishing in Canada you need to have a passport or driver's license and birth certificate

Exciting
Night Walleye Charters Available!!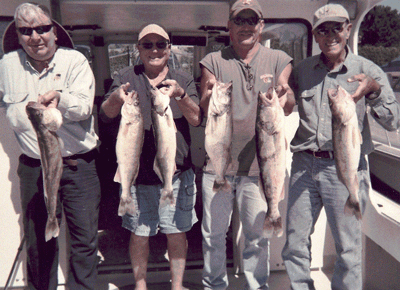 Bob Schoenfeld Group - Maineville, Ohio



EXCITING
SMALLMOUTH BASS
FISHING IN
OHIO AND CANADA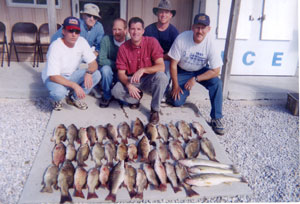 Joe Coffing Group-Monticello, Indiana
CHARTER WITH FAMILY, FRIENDS,
CUSTOMERS OR BUSINESS GROUPS
Book early for preferred dates.
Call or write for reservations or information.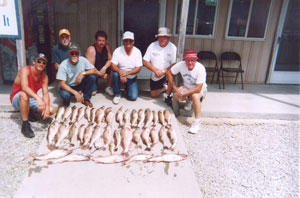 Leonard Kelly Group - Mooresville, IN
SPECIALIZING IN SERVICE
FOR OVER 50 YEARS
The Skippers, Bob, Lyle and Ned Boytim are
lifelong residents of Marblehead. Each is long-
time holder of a U.S.C.G. Operator's license.
(Bob-50 yrs.; Lyle-50 yrs.; Ned-30 yrs.)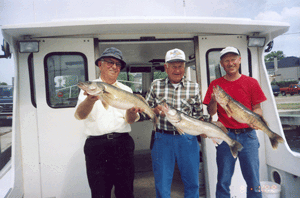 Skippers Lyle, Bob and Ned

Quality fish cleaning available
Marblehead Fish Cleaning-West
369 S. Bridge Road, Rt. 269, Marblehead
(419) 734-4825

AREA MOTELS

Lake Point........................(419)798-4684
Surf..................................(419)798-4823
Peninsula.........................(419)734-4778
Majestic...........................(419)798-4921
Lighthouse Resort............(419) 798-9600
AREA CABINS

Kaspar's Lake Breeze Cabins (419) 798-5410
Taylor's Cabins (419) 798-5101