The Captain's Corner
by Rick Kubb, Editor



Order Lake Erie Walleye Magazine
Three Information-Packed Issues for only $10.00
Delivered to your doorstep every March, June and September
W

hat do limousines and charter fishing have to do with each other? Just ask Captain Tim Garrett of Aqua Fantasea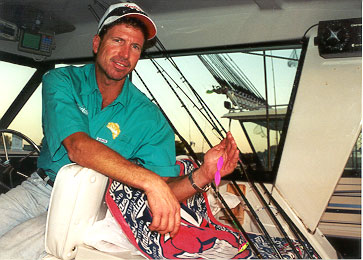 Fishing Charters. This past fall Lake Erie Walleye Magazine had a chance to visit with Captain Garrett and learned much about both his charter fishing business and the limo business. You see, in addition to his charter business Captain Garrett owns and operates Renaissance Executive Limousine Service, Inc. More on that later but letís first talk fishing with Captain Garrett.

Tim began chartering 9 years ago but has fished Lake Erie for over 30 years. The home port for Aqua Fantasea Fishing Charters is Grand River, Ohio. Tim is a member of the Grand River Marine Charter Group. The group is composed of 10 charter captains that all dock together in the Grand River which runs between Grand River and Fairport Harbor, Ohio. You might call it "Charter Row" as you look down the expanse of docks you see nothing but large charter boats and loads of professional fishing gear extending from each of the vessels. Within site of the dock area there is a full service Marina some small shops and several good seafood restaurants including "Pickle Bills" and "Brennanís Fish House". Itís a charming location and in the summer months the captains keep 'reel' busy. Watching the boats come into port in the late afternoon can be a treat in itself as the Captains proudly display their catches and happily visit and share the fishing information for the day with just about anyone who happens by.

The charter group is close knit and works together sharing information among themselves so that all of the captains have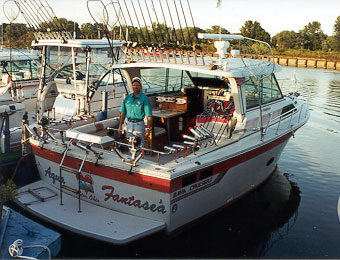 an opportunity to fish the same productive areas in the summer months off of Grand River. Youíll see this group together at the various winter sport shows as well.
Each year Captain Garrett runs between 75-100 charters. During the busy times heíll share charters with his brother Jim Garrett, also a charter captain affiliated with the Grand River Marine Charter Group.
The Grand River is located in the heart of the central basin of Lake Erie. In the summer months walleye fishing in this area means deep water trolling for trophy sized walleyes. Fish in this area of the lake are routinely between 6-8 pounds.
Fishing this style requires lots of gear and Captain Garrett certainly has the boat and equipment to get the job done. He runs a 32í Baha 310 Sport Fisherman with twin 454 Volvo gasoline engines. Itís a fast boat that can .....
........ to complete this article . For just $10.00/year you'll enjoy all of our latest issue of Lake Erie Walleye magazine. Plus, you'll have online access to past issues of the magazine with hundreds of great articles from the Lake Erie Walleye Magazine Archives!
Lastly, we'll mail this issue plus the next two issues directly to your home.
You can also call our toll free number at 1-800-347-4519 to subscribe today!