Trophy Walleye Magic
Stay close to shore for outstanding walleye opportunities
by Michael Veine


Order Lake Erie Walleye Magazine
Three Information-Packed Issues for only $10.00
Delivered to your doorstep every March, June and September
No other walleye fishery even comes close to producing as many 10-plus pounders as the Western Basin during early spring. Iím talking about walleyes that stretch the tape past 30-inches, the kind of fish that are in a class all by themselves. Even though Iíve had the opportunity to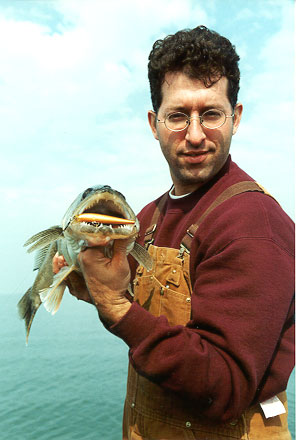 fish most of the noted trophy walleye hot spots all over North America, none compare to Erieís spring spectacular. Last year on my Charter boat, my clients managed to catch over 30 walleyes that topped 10-pounds, the biggest being a massive 35-incher that sagged the scale to the 14-pound mark. We also boated over 100 walleyes that weighed more than seven pounds. The best news is that Erieís early spring fishery is largely under utilized. As good as the fishing is, catching ten-pound lunkers is still far from easy. Harsh fishing conditions combined with finicky fish make refined, precise presentations absolutely necessary for consistent success. Savvy anglers with walleye wisdom and plenty of patients will often be rewarded with awesome catches.
To catch those big walleyes on a consistent basis one needs to understand their early spring habits. During the pre-spawn period walleyes tend to school with fish of a similar age class. Quite simply, trophy walleyes wonít be hanging out with puny, little, one and two pounders. Anglers seeking big fish sometimes must steer clear of the tempting schools of eaters while searching out older age class fish.
Western Basin walleyes historically spawn around April 15 every year. Consequently, the best trophy walleye fishing occurs ......
........ to complete this article . For just $10.00/year you'll enjoy all of our latest issue of Lake Erie Walleye magazine. Plus, you'll have online access to past issues of the magazine with hundreds of great articles from the Lake Erie Walleye Magazine Archives!
Lastly, we'll mail this issue plus the next two issues directly to your home.
You can also call our toll free number at 1-800-347-4519 to subscribe today!