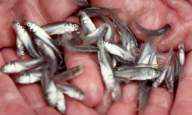 Saugeye naturally occur in nature where walleye and sauger coexist, as in the Ohio River. However, most saugeye are produced in Division of Wildlife hatcheries. Saugeye parents are collected from Ohio waters: sauger males are collected from the Ohio River and walleye females are collected in the March from lakes such as C. J. Brown, Mosquito and Berlin.
The Division of Wildlife's first successful saugeye production occurred in 1977 when limited numbers were raised at the Kincaid State Fish Hatchery. In June 1978, the first introduction of saugeye occurred in Deer Creek Lake.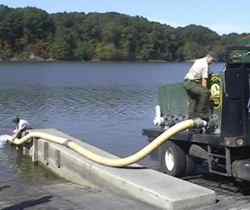 Subsequent fish surveys at Deer Creek (pictured left) indicated favorable survival and growth. The success of this inaugural stocking led to the expansion of the saugeye program. Ohio's saugeye program has focused on stocking saugeye where walleye introductions have been unsuccessful and where saugeye are more likely to provide a quality fishery. Hatchery saugeye production recent years has been between million fingerlings per year. In 2004, 8.7 million saugeye fingerlings were stocked into 59 water areas.
Some of the better saugeye fishing in central Ohio can be found at Alum Creek, Buckeye, Hoover, and Indian lakes. The northwest part of the state has Paulding and Pleasant Hill Reservoir. In northeast Ohio, Atwood, Clendening, and Tappan, produce excellent saugeye fishing. Piedmont Lake boasts good saugeye fishing in southeast Ohio. If you enjoy fishing rivers, then try fishing for saugeye in the Muskingum River. In the southwest, saugeye fishing opportunities are best at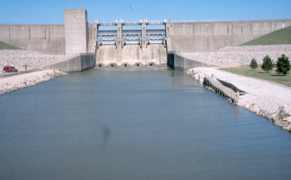 Caesar Creek and Rocky Fork lakes. See saugeye fishing tips for all seasons.
Stockings in some Ohio onstream flood control reservoirs have also provided high densities of saugeye in tailwater areas (the stream below the dam of a water body- pictured right) which can provide great fishing opportunities from November to July after high discharges of water. Fishermen find tailwater areas, at lakes like Paint Creek (southwest Ohio) and Deer Creek (central Ohio), attractive getaways from the traditional cabin fever ills of winter.
Saugeye provide excitement and are a prized sport fish to Ohio's anglers. The current state recordsaugeye is a 12.84 pound, 28 ¾ inch long fish which was caught at Alum Creek in late January, 2002.
See saugeye fishing tips by season.
Is it a Saugeye, Walleye, or Sauger?
How can you identify a saugeye from a walleye or a sauger? Since saugers are primarily found in the Ohio River, the identification problem most likely to occur is between the saugeye and walley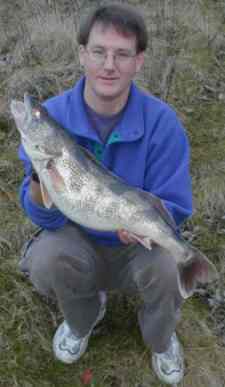 e. Saugeye look similar to both the walleye and sauger. Saugeye have saddle-like markings on their sides, similar to the sauger, but saugeye can have some white pigment on the lower portion of their tail along with dark bars on the dorsal fin membranes. Walleye do not have saddle-like markings on their sides, have white pigment on the tail, and have solid shading on the dorsal fin membranes.
Ohio's saugeye management and research has been concentrating on how to make saugeye fishing consistently better for fishermen. Currently, research investigations are being directed towards saugeye condition and prey availability during the winter, spring, summer, and fall time periods. Biologists are also examining whether later stockings of fingerlings improve saugeye survival. Knowledge gained from ongoing research projects will provide the Division of Wildlife with information necessary to modify management techniques in such a way as to substantially reduce mortality and thus improve saugeye stocking success. This, in the long-run, will eventually mean more saugeyes for the angler.

Reprinted courtesy, Ohio Division of Wildlife