Falling Hard for Giant Smallies
by Ron Anlauf
When someone said good things come in small packages they must have been talking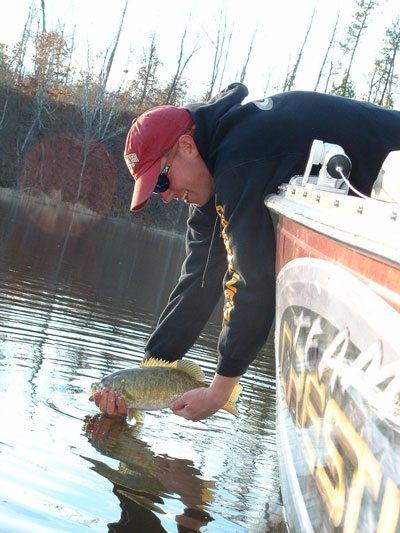 about smallmouth bass. Those little bronze bundles of joy have the ability to show you a terrific time, especially when they smash a top water lure or go airborne for the second time. As much fun as that can be the effect can be amplified when dealing with the largest of the species. Sticking four, five, and even six pound plus smallmouth bass is what we're talking about and is unfortunately a rare occurrence for most anglers.
Smallmouth in general have earned a reputation for being ghost like, and only seem to show themselves when they feel like it. That characteristic gives an appearance of being aloof and playing hard to get, which really adds to their overall mystique. Throughout most of the open water season smallies can be rather difficult to pin down, especially if you're targeting the larger models. While that might be the case most of the time there is a great equalizer, and it comes during the early fall period.
Late summer and early fall is when everything comes together and when smallmouth bass lose a good deal of their indifferent attitude and become much more predicable. Now you can actually count on them to be where they should be, and when they are most likely to posses an aggressive bait chasing, grub munching, tail dancing, and much improved state of mind.
Instead of a few fish here and a few there fall smallies bunch up in super schools, where they become particularly vulnerable once their location is revealed. The key of course is location and really isn't all that difficult to put together when you take a look at the big picture. The big picture includes a good deal of rocks, rocks that play host to thousands of crayfish. Crayfish make-up the lion's share of a smallie's diet and are the reason for all of the rock bottom attention.
Team Crestliner Member John Janousek of Nisswa, Minnesota knows the ins and outs of late season smallies and has been keying on a small river pattern that has produced outstanding results for quite a few years. According to John: "The upper Mississippi isloaded with big smallmouth that are typically spread out through most of the summer period but by early September they start to migrate downstream and stack up in the deeper pools above the dams.
The move seems to be triggered by dropping water temperatures and results in mega schools of smallmouth bass filing into specific structures like current breaks, log jams, and rocks. Current determines where they can be expected to set up with light flows opening up the main channel and heavy flows pinning them closer to current breaking structure like rocky points or log jams.
It doesn't take long to find out if there is anybody home and five minutes or so is about all the time I'll spend looking for active fish before heading to the next spot. On the other hand I will go back and fish a good looking spot again and again, especially if I think it has the "right stuff" to produce."
Good presentations include the usual fare like tube worms, grub tails, crankbaits and even top water lures. "During the fall period it's the warm sunny afternoons that are ideal for working topwater baits like Skitter Pops and Skitter Props. With cooler water temps a penetrating sun can give a smallie's metabolism a boost and is what it usually takes to get things going on top.
Log jams can hold numbers of big fish but require some special gear to get the job done. Abrasion resistant line in the seventeen to twenty pound range, flippin' sticks, and Texas rigged plastics are what's required to keep a giant smallmouth from hanging you up when it tries to bury in heavy cover. Productive plastic baits include tubes and 4" grub worms in crayfish patterns.
Fish holding near deeper rocks can be quickly worked with deep diving crankbaits likethe Rapala DT 6 and DT 10. The key is to use a bait that dives deep enough to continually bang into the bottom. Crayfish patterns are again the hottest fall colors and include a good dose of orange and red."
Rock running smallies can also be worked with an exposed hook and worm rig like the Northland Tackle Rattlin' Inner-Tube Jig and a tube lure or grub worm. An exposed hook will get hung up occasionally but will also result in more fish hooked. Water temperatures will determine on how long the good action will last and will slow considerably when it drops into the fifties, although you can still catch fish on the nicer days. In the upper Midwest September and October produce the hottest action but may last even into November. See you on the river.