Captain's Corner
Captain John Johns of Lake Erie Charters
Iin late September Lake Erie Walleye Online (www.walleye.com) caught up with Captain John Johns of Lake Erie Charters to do a little fun fishing and talk fishing on Lake Erie.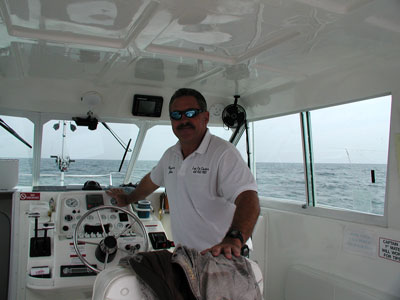 Captain Johns normally keeps his boat docked in the Chagrin River near Eastlake, OH but for the past few weeks he had his 34' Baha Catamaran parked in the Ashtabula River where captains were experiencing a very hot September walleye bite. Our itinerary for the day called for fishing a few miles north of Ashtabula Harbor for some walleye and steelhead, then move the Captain's boat back to his home port of the Chagrin River.
As we headed out of the Harbor we were greeted with some chilly temperatures and steady southwest wind that kicked the lake up a bit with 3-4 foot waves. No problem for Captain John's boat though. Plenty big and with the double cat hull we managed the weather just fine.
The captain and first mate, Aaron, got into position then deployed a total of 12 rods using mainly stinger spoons off of dipsy divers and jet divers set off of the port and starboard planer boards. Two downrigger rods were set as well. The action was slow to start as the captain suspected the large schools of walleyes that the captains had been successfully targeting the past few weeks might have begun a movement back toward the west.
Later in the morning the action picked up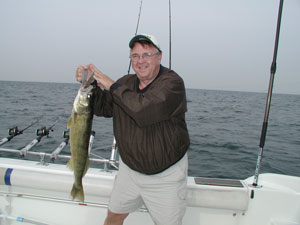 as we netted several nice 'good eating' size walleyes and one fish Ohio trophy 'eye. In addition to walleyes we picked up two really nice steelhead trout. To top things off we had our share of monster sized freshwater drum (e.g. Sheepshead). Several of these huge drum were caught between walleye and steelhead hauls. The drum can be fun to catch, especially for those first time charter fisherman, but they can sure wear you out, especially when you've got to haul 400+ feet of line in and after battling a big steelie or walleye.
At around the noon hour the winds began to pick up and the weather forecast indicated that things weren't going to get much better, so we hauled in the lines and headed west to get Captain John's boat back to home port.
We had about a 2 hour boat ride in 4-5 foot seas for the somewhat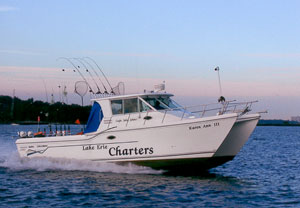 bumpy ride home so we had some time to talk fishing. Captain Johns has been chartering for 18 years. The Captain's boat, a 34' Baha Catamaran is a 2001 year model with twin 450 hp merc. engines and loaded with the latest in electronics including a brand new Raymarine combination fish finder/GPS unit with a large 12" color screen. No mistaking seeing the fish with that unit.
Home port for Lake Erie Charters is in the Chagrin River, about 20 minutes east of Cleveland, OH. Captain Johns specializes in Deep Water Trolling for Walleye and Steelhead Trout, fishing from Cleveland to Fairport Harbor. In some years as this one, the captain moves his boat further east to follow the migration patterns of the trophy walleye. Many of the large walleye migrate from the shallow western basin of Lake Erie during the heat of the summer to deeper water in the lake's central basin seeking cooler water and bait. Some fish will travel the entire length of Lake Erie and wind up in the nets of fisherman from the Buffalo area in the deepest eastern basin of Lake Erie.
Captain Johns offers half or full day walleye charters from May-September and will target the fun catching Steelhead trout from July through September. Also in the fall months the captain offers both half day and full day perch charters. All rods, reels, tackle and bait are all provided and the captain will register all fish that qualify for "Fish Ohio" award caught during each charter.
For more information or to book a charter with Captain John Johns, contact:
Lake Erie Charters
Phone: (440) 953-9507
Email: [email protected]
905 Mannering Rd., Eastlake, OH 44095
Dockage: 36000 Reeves Rd., Eastlake, OH
www.alakeeriecharters.com