Get on the Breaks for Late Fall Walleyes
by Ron Anlauf
It's high time for going as low as you can go for late fall walleyes. There's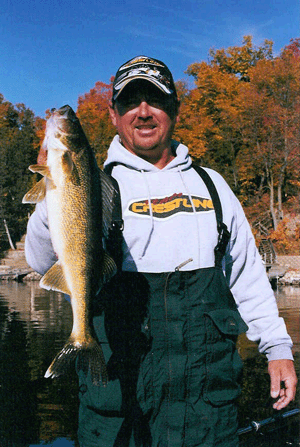 plenty of great patterns for finding and catching old marble eyes late in the open water season but one of the best includes simply working deeper breaks and drop offs with jigs and live bait rigs. As simple as it may sound there are still some important keys to keep in mind when trying to put it all together.
First and foremost you really have spend a little time and identify and locate likely areas that will help to concentrate fish. One of the hottest late fall spots includes the base of the sharpest breaks and drop offs you can find. The bottom edge of a sharp break can load with major schools of fish late in the season and best of all they're not all that hard to find. With a good map you can quickly put a finger on the spots most likely to produce and includes inside turns and points, especially where contour lines pull in tight to each other indicating a sharp break.
It's easy enough to identify these spots on a map but it's a different story when you try to find them once you get on the water. When you're looking for a spot try to use any type of distinct shoreline mark that you can pick up from the map and easily identify like in front of a public access, or by lining up a point with an access, etc. It's going to take some investigative work and you'll have to waste some of your fishing time but it's a job that has to be done.
There is an alternative that can save valuable time and includes the use of a high definition graph combined with a G.P.S. and chart plotter that can display a detailed map. The new Humminbird 987C combined with a Navionics Gold Map can do just that and will show you exactly where you are in relation to sharp breaks, inside turns, etc. This incredible combination makes the job of spot finding a whole lot easier and eliminates any doubt in regards to your exact location. The 987C is also an incredible color graph that displays bottom, it's density, baitfish, and fish (especially those holding tight to the bottom). Walleyes holding tight to the bottom along a break are easily overlooked and it takes the right equipment to reveal their presence.
Team Crestliner Member Richie Boggs of Nisswa, Minnesota works sharp breaks for late season walleyes but does it with a twist. Instead of just looking for the sharpest drop offs, he'll try to find fast breaks near shallower weed flats and has found the combination to be extremely productive. "A lot of anglers head for main lake structure and those areas get pounded. I've found plenty of secondary spots in the backs of bays and arms where weed flats drop sharply into deeper water that hold good numbers of active walleyes and best of all I usually have them to myself." If weeds aren't an option then you'll have to stick with "classic" structure but it would still be a good idea to try and find an area that you can have to yourself, especially if you're dealing with a lot of pressure from other anglers.
Rigging is a top late fall technique and includes using live bait rigs like the Northland Roach Rig adjusted to a medium length snell of maybe three feet or so, along with a lively minnow like a red tail chub. Red tails are Ritchie's "go to" minnow and he takes special care to make sure his designer bait is in tip top shape. "Good bait is expensive but it can make a real difference in how may fish you put in the boat so you better take care of it. My Crestliner 202 has a built in oxygenator that releases dissolved oxygen and keeps finicky minnows like chubs and shiners in perfect condition. I can keep minnows alive in the well for days and even weeks, but they usually don't last that long!"
Rigging the breaks includes dropping a live bait rig with a slip sinker to the bottom and then slowly trolling along through likely areas and trying to feel for anything unusual like maybe some extra weight. A walleye picking up a minnow can be rather subtle at times, although they do tend to hammer a red tail chub. If you do suspect that your bait has been picked up you better drop the line and let the fish have some time to completely take the bait before setting the hook. Missed fish means more time is needed before the set and it can be quite a long wait when they're not all that aggressive. They'll often pick it up and just sit there, and sit there, before finally taking it all in. Set too soon and you'll come up empty.
Slow is the key to late season rigging and is where an electric trolling motor can be absolutely invaluable. The Minn Kota Vector with it's 3X steering is ideal for slow trolling and gives you an incredible amount of control. With an infinite range of speeds and a motor that can be turned 360 degrees with a short back and forth stroke of the steering handle the Vector allows you to achieve the perfect trolling speed while staying on top of quick changing drop offs. Anglers that have opted for consoles and steering wheels have heretofore given up a lot of their control, but they don't have to, not now.
The late fall season is going to be here and gone before you know it so time's of the essence. With a good map, a handful of chubs, a few slip sinkers and a nice sunny afternoon and your all set. Getting on the water late in the season can be extremely peaceful and is good for the soul. Those that have been there and have had the pleasure know what it's about, and is why they keep coming back for more, year after year. See you on the water.