PORT CLINTON — The weather forecast called for winds of 5-10 mph.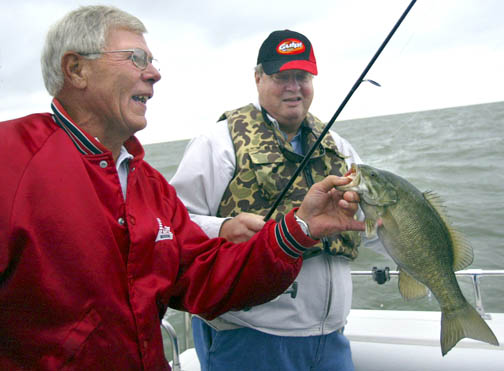 The flags were standing straight out. The predicted one- to two-foot waves were three to five. But it didn't matter. The smallmouth bass and perch awaited.
Charter captain Dennis Lutz, a retired fire department captain and former boat dealer in Miamisburg, pointed his 30-foot Baha cruiser north out of Wild Wings marina, leaving the tall stack of the Davis Besse power plant behind, its steam spewing straight south.
Generally a north wind isn't conducive for fishing, but Lutz wasn't concerned.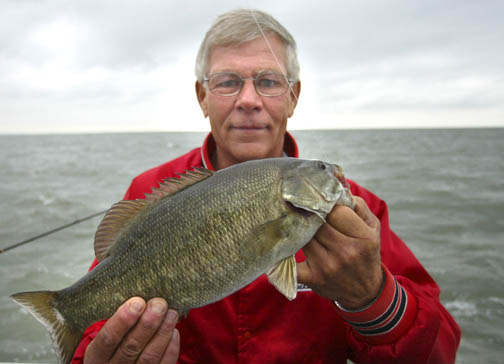 The day before, he caught plenty of smallmouth and perch in similar conditions.
We started a drift over Locust Point Reef, a couple of miles out. Just minutes later, a 2-pound smallie jumped out of the water on the end of my line. The fun had begun.
Lutz had five others on his boat, Dealer's Choice, for what captains call a combo trip: smallmouth bass fishing in the morning, followed by some freezer-filling yellow perch fishing in the afternoon.
"We (Lake Erie captains) will do whatever the clients want to do," said Lutz, 59, who has been fishing Erie waters since the 1980s. "In the fall, when walleyes have slowed down, bass and perch fishing come on strong.
"Every captain I know encourages catch-and-release on smallmouth," he added. "So if the people want to have fun catching them for a while and then go perch fishing, that's fine with us."
Three drifts across Locust Point Reef produced smallies for everyone, the largest measuring 18 inches. Then it was off to find some perch.
Recent storms had muddied the waters and scattered the fish, but Lutz and a few other captains talking on the radio found some spots.
While we weren't reeling in jumbos one after another, plenty of eight- to 10-inch perch found the cooler. And with the limit 40 per person this year, that's a bunch of fillets. In just a few hours, we had 160 keepers.
"The perch fishing has been steady all year and we expect it to be great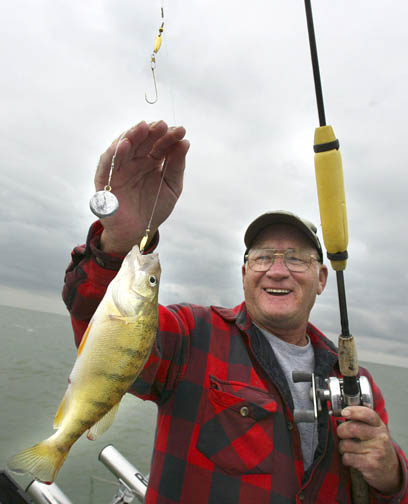 in the fall," said Roger Knight, who supervises the Sandusky fish research unit for the Ohio Division of Wildlife.
"Perch from the huge 2003 class are now 7-8 inches and there are plenty of larger fish out there from previous years," Knight said.
Perch fishing has been so good in Erie's Western Basin that many of the charter captains who usually go to Huron and Vermilion in the Central Basin at this time of year are staying put.
"In past years, it's been better over there," Lutz said. "Normally that's what I'd do, but right now they are having trouble finding fish in the Central Basin and we have plenty over here."
Knight said perch are plentiful all over the Western Basin, but deeper, rock-bottom areas usually are where the larger perch hang out to eat the small round gobies that have hatched in those locations.
"You might not find quite as many, but that's where the larger perch can be found," Knight said.
"There are seven or eight reefs right out front of our marina," Lutz pointed out. "So you can go smallmouth fishing on the way out to go perch fishing. You can go as close as three miles out to bass fish and the perch fishing is good around B-can and C-can (of the Camp Perry firing range), so you are only seven, eight miles out."
He said charters aren't as busy this time of year as they are during the peak vacation and walleye months. Captains have free dates on weekdays and even a few weekends through October.
Lutz can be reached at (937) 475-7195.
Contact this reporter at (937) 225-2409 or [email protected] .