CLEVELAND — After finishing the season-opening Wal-Mart FLW Walleye Tour event in second place, young pro Dustin Kjelden had a bitter taste in his mouth. Gambling and choosing to fish Lake Erie on day four, the BFGoodrich Tires pro returned to Elizabeth Park Marina in suburban Detroit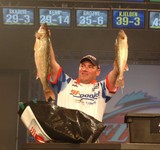 with over 24 pounds in his livewell – thinking the title, and the $100,000 purse was his.
All season long he's used that memory as motivation. Returning to Lake Erie for the 2007 FLW Walleye Tour Championship, Kjelden put on a clinic, dominating a field of the best fishermen in the world. On the pivotal third day of competition, Kjelden caught an 11-pound, 13-ounce walleye that anchored a 39-pound bag. On day four he sealed the deal by calmly catching a 22-pound, 13-ounce stringer.
The title was up for grabs until Kjelden lugged out his two kickers that brought the Cleveland area crowd to its feet. While the tournament was in doubt until the very end, Kjelden's final round total of 62 pounds bested Scott Fairbairn by over 12 pounds.
"It has been an absolutely awesome season," Kjelden said. "It is amazing to win against this stiff of competition. Everyone in the top-10 is an awesome angler. To end up No. 1 is incredible."
Kjelden caught a limit of 20 pounds or more each of the four days of competition. Even though the finalists were restricted to two lines Sunday, the pro winner still coaxed a dozen walleyes.
The BFGoodrich Tires pro caught his fish by trolling spinners with night crawlers at 1.4 to 1.6 mph. He used copper willow-leaf blades and large green beads on his spinners. Kjelden also employed planer boards to get his lines away from the boat and 1-ounce in-line sinkers to get them down.
"My rule is that on the Great Lakes, the bigger and gaudier the better with beads."
Kjelden presented this offering over a sand bar in front of the town of Vermilion, Ohio, three miles from the Canadian border. He positioned his boat approximately 14 miles offshore in water 45 feet deep. In practice he caught most of his fish near the bottom of the water column but they came up as the event commenced. In the end, his better fish came in approximately 10 feet of water.
"One key I'm always looking at is the pattern that's going to happen, not what's happening right now."
In winning his second FLW Walleye Tour event, the Brookings, S.D., pro claimed $150,000 – the largest payday in the sport of tournament walleye fishing. In just 22 FLW Outdoors events since 2003, the 28-year-old father of two young girls has earned over $350,000.
"My personality is very addictive. If I'm going to do something, I'm going to do it 100 percent."
Fairbairn sick of second
After yet another first-class performance, Fairbairn finished the championship in second. Second place is no stranger to Fairbairn as he finished runner up at the 2006 PWT Championship on the Missouri River. Fairbairn also finished second at the 2007 PWT event on Lake Winnebago and third at the 2007 season-opening Walleye Tour event on the Detroit River.
His Lake Erie tournament ended with a limit on day four that weighed 16 pounds, 10 ounces. While he was the model for consistency all week, he struggled quite a bit Sunday.
"I lost four or five good fish," said the Hager City, Wis., river rat. "How long is the TV show? They'll have plenty of footage of fish coming unbuttoned."
Fairbairn said he had several doubles during the day, meaning a fish was on each of his lines. Wisely, he'd attend to the heavier fish first before reeling in the other line.
"I'd pick up one rod and lose it and then pick up the other one and boat the smaller fish."
Not surprisingly, Fairbairn trolled spinners with night crawlers at 1.2 to 1.5 mph during the final round. During the two-day opening round, he pulled Rapala No. 11 purpledescent deep-tail dancer crankbaits.
Today the perch were nipping off his crawlers so he removed his planer boards and flat-lined his rods behind the boat.
"That way I could see if the perch were nibbling and reel away from them."
He fished the west side of the Lorain sandbar, which is located 33 miles west of Voinovich Bicentennial Park. The former PWT Angler of the Year said the fish were positioning themselves as though they were on a river sandbar.
Fairbairn's final-round weight was 49 pounds, 7 ounces, which earned him a check for $75,000. For the record, his career earnings with FLW Outdoors now sit at $166,664.
"I'm sick of second but its one of those things where I told my wife I'd probably retire if I ever win one of these things (championships). Apparently, I'm not meant to retire."
Crow third
Fishing the exact same water as Kjelden, Paterson, Wash., pro Robert Crow put together a different, yet successful program that resulted in a third-place finish and $30,000.
"I ran deep-diving, bare-naked Reef Runners to catch my fish," he said. "I had two separate pods of fish going. One was in 10-12 feet and one was in 28 feet."
His area, located 42 miles northwest of Cleveland was roughly 45 feet deep. On day four, the majority of his walleyes came from up top. Crow would troll his crankbaits at 2.5 to 3 mph. The result was 18 walleyes total, the best five weighing 25 pounds, which was the heaviest catch on day four. His final-round weight registered 48 pounds, 12 ounces.
"It's great to fish against a group of guys like this. Finishing third, you can't gripe about that."
Lantzy falls to fourth
If this was a contest of who caught the most walleyes throughout the week, then Folgers pro Dennis Lantzy would likely be the one hoisting the $150,000 check over his head. Catching a plethora of 22- and 23-inch fish, he instead finished fourth and earned $25,000.
Fishing with friend and teammate David Kolb, Lantzy was a bastion of consistency all week. After catching 24 pounds, 1 ounce on day three, the Warren, Mich., native caught 23 pounds, 8 ounces on day four.
"I went through a lot of fish again today," said Lantzy, who employed spinners and night crawlers near the top of the water column. "It was nonstop action from about 10 a.m. until it was time to go in."
Had Lantzy gotten into a few of the pigs that bit Kolb's offering during the opening round, he would have applied some serious pressure on Kjelden.
Preisnner fifth
In the first Walleye Tour Championship of his career, Jim Preissner of Hastings, Minn., earned $20,000 and finished in fifth place with a final-round weight of 47 pounds, 4 ounces.
Preissner delighted the Cleveland crowd with a 7-pounder kicker shortly after pretending he was out of fish. That kicker anchored his 23-pound, 15-ounce five-walleye limit Sunday.
"That's quite an accomplishment," Preissner said of his fifth-place finish. "I'm hoping to come back one more time."
At the tender age of 65, Preissner notched his first top-10 appearance on the Walleye Tour, but he wasn't satisfied with just being in the final round.
"I do want to win the championship. That's my goal."
Rest of the best
Rounding out the top 10 pro finalists at the FLW Walleye Tour Championship on Lake Erie:
6th: David Kolb of Ada, Mich., 43-6, $14,700
7th: Ross Grothe of Northfield, Minn., 35-6, $13,700
8th: Jason Kerr of Holly, Mich., 29-14, $9,200
9th: Tommy Skarlis of Waukon, Iowa, 29-3, $11,700
10th: John Gillman of Freeland, Mich., 20-1, $10,700