2005 Lake Erie Walleye Forecast
By Capt. Phil Cadez
Some hearty anglers reported lots of action fishing thru the ice in February.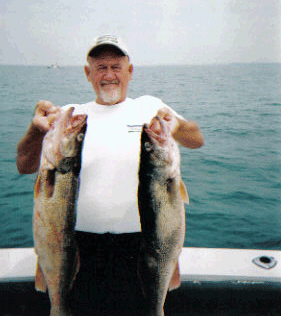 I talked with one of the local bait stores in the Port Clinton area and was surprised to hear about the quantity of walleye caught. A few fishermen reported catching as many as 100 small walleye in a days fishing. The fish were from the 2001 great hatch and are ranging from 13 to 16 inches. By the summer of 2005 they'll be a great eating size walleye.
Along with these smaller walleye a few trophy hogs over 10 pounds were also caught. The third biggest hatch on Lake Erie was the 1999 hatch which will bring the greatest amount of fish to the catches this summer. These fish now almost to 5 to 6 years old will be from 3 to 5 pounds and give anglers a great time on the lake this year
The year 2004 was not easy fishing because of many weather fronts, milky water and cold and choppy seas. By mid May the fish turned around off Toledo, north of the Western Reefs, and near Kelley's Island. Some really big fish six to ten pound walleye were caught near Kelley's in lake May and early June.
There were bigger groups of boats west of Rattlesnake Island in late May, June and even July. These open water schools of walleye stayed out there and moved around. They kept moving because of their food fish and the many boats that spooked them.
The fishing in the Canadian water did produce bigger walleye near Pelee Island in June and July. The numbers weren't as consistent as other years, but the quality was great, with lots of big walleye. One Saturday, I had a group of experienced anglers and fished hard only to bring in a dozen fish. The next day our 36 fish weighted 165 pounds and one fishermen caught two 10 lb fish within an hour.
With the lake cleaning up and fishing pressure increasing many charters have started trolling. Having 12 to 16 rods out with different lures far away from the boat helps you find out the strike zones more easily. The true angler hates this form of harvesting, he still wants to cast his weight-forward spinner or "weapon" tipped with a worm. This difference of opinion will never stop. Every one is entitled to a choice of the way they fish.
The favorite areas fished last year were near West Sister Island to the shipping channel northwest of it. This was great early because of shallower water. The biggest fish were caught between South Bass and Kelley's Island in early spring. Lots of 7 pound or bigger fish were caught as the summer progressed. Many anglers and charters followed the fish to the Canadian reefs. Trollers did well but the caster did especially great on the rocky reefs near Pelee Island. Seemed like any gold spinner worked the best tipped with a nightcrawler.
Some of the charters moved to Vermillion and Huron for the late fall big walleye movements. This is the time of year the trollers usually do well on big fish. This year was a little different, it seemed that one day you're in the penthouse with a big limit, and the next day you're in the outhouse with just a few fish.
Plan ahead to come to this vacation area. There's lots of charters, ramps for you own good-sized boat and motels to stay in for the night. These areas get booked up months in advance. Don't wait till March or April unless you can come up during the week which is a little slower, but not much. Weekends seem to be a boom with the population doubling or even tripling. Traffic is congested and it seems everyone is in a hurry to get out on the lake.
You might try calling 1 800 BUCKEYE and ask for information on Ohio's northern shore from Toledo through Huron this summer. Port Clinton seems the central area to which anglers flock. If you want to talk fishing you can e mail me at [email protected]. www.cadez-charters.com Good Fishin!!