Early 'Eyes
by Ron Anlauf
Even early on in the walleye season patterns emerge that can produce incredible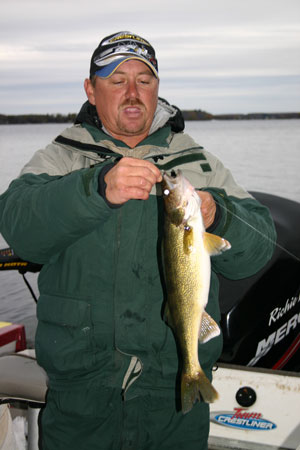 action, if only they are discovered. There are times when it seems like the deck is stacked against you but the pattern is there, if only you can find it. Unlocking the secrets to early 'eyes requires keeping a pulse on the current conditions, understanding their needs, and reacting accordingly.
The most important and predominate force during the earliest part of the open water season is the spawning cycle which dictates where walleyes will be found, and just how active they'll be. A basic understanding of the process can get you started in the right direction, and help you begin putting together a solid early season pattern. Shortly after ice-out walleyes start heading for suitable spawning areas like rock rubble shorelines, bars and reefs, as was well as incoming creeks and rivers. Incoming streams attract the earliest runs of spawning fish which may occur a couple of weeks ahead (or more) of the lake run variety. Walleyes will react to the increased flow and increase in water temps and can come in so heavy that you'd swear you could walk across the river on them. The process starts with a few eager beavers showing up first, followed by heavier and heavier runs, and then quickly thinning out and finally coming to end a week or so after the whole thing got started.
The next group of walleyes to complete the cycle is the shoreline variety, whereby the females drop their eggs on fist size rock and rubble that is exposed to current or wave action. Females will move up, drop their eggs, and head back to deeper water while the males move up, release their milt, and stay in the general vicinity. Maybe they stay put in case more females show up late, or maybe it's something else. It doesn't really matter as long as you know the situation.
Bringing up the rear is the latest of the spawners which do so on off shore bars and reefs. Reefs that top out in the four to eight foot range get the most use, but walleyes will spawn in deeper water, depending on what's available. On Lake Erie for example, walleyes have been to known to spawn on reefs that are eighteen to twenty feet deep! That certainly isn't the norm but it does happen.
When you add it all up you can see that even though they are all walleyes, there are separate and distinct groups that do what they do at different times, and in different areas. It's important because knowing where walleyes are in relation to the spawn will allow you to key on the group with the best chance of producing, and it also gives you an idea of where to start looking.
Understanding how males and females interact will help you put together a pattern that keys on a specific size. For example; if your intent is to catch a lot of fish and size doesn't matter, or if you're looking for walleyes that will fit into a specific slot, a good portion of your efforts should certainly be dedicated to probing shallow spawning areas.
If you're looking for a larger model you may want to start with the same shallow spawning areas and head a little deeper. The only drawback is the fact that when females finish dropping their eggs they seem to lose their appetite and may not get it back for a week or so. If you're dead set on chasing down a big hawg you may want to concentrate on the night run as at least a few big walleyes could still be active once the sun goes down.
When targeting early season 'eyes it would be a good idea to keep their metabolism in mind, which probably isn't on high. Dead slow presentations are the rule, and include slow trolling crankbaits, jigging, and live bait rigging. Tolling crankbaits, dragging jigs like an 1/16 oz Northland Fireball tipped with a minnow or leech, or dragging a live bait rig with a chub or shiner can all be effective and will take a little experimentation to know for sure. Trolling a crankbait will allow you to cover some water and may be the big ticket if your faced with acres and acres of potential fish holding areas.
A trigger to a good crankbait bite would be heavy wind and waves pounding into a rocky reef, bar, or shoreline. Calmer conditions may call for something completely diferen like long lining jigs or live bait rigs, especially if you're dealing with clear water and spooky fish.
Team Cresliner member Richie Boggs of Nisswa, MN spends a lot of time working clear and heavily pressured lakes and uses a long lining technique to catch tempermental walleyes; "I'll long line a simple split shot and leech when walleyes are shallow and things get tough. If there's enough wind and wave action I can move in as shallow as a few feet and still catch fish." Another technique Richie uses is to look for areas wherecreeks or streams dump in; "Walleyes that run the creeks to spawn will stack up on the closest rock bars, sand flats, and even weed beds in the main lake."
The key to early season success is to forget what you think you know and keep an open mind. Even on waters your quite familiar with it's easy to miss something, and what you miss could be the best thing going.