2006 Lake Erie Fishing Forecast
By Captain Phil Cadez
The Ohio division of wildlife compiles statistics on Lake Erie catches in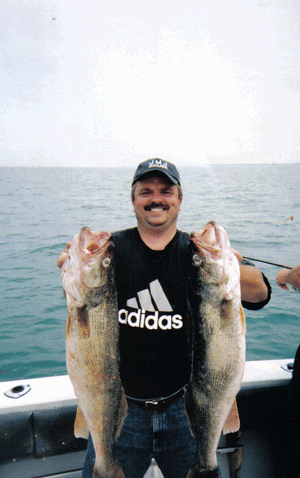 order to monitor the well being of the lake. The real facts were given to me by Travis Hartman a Fisheries Biologist out of Sandusky Ohio. The ODNR sends biologists out on the docks and boat ramps daily to get creel census data from charters and private boaters. The ask questions like 'what were you fishing for? What was kept? What was thrown back? A few scale samples are taken back to the labs for study. Everyone concerned with Lake Erie owes these Biologists a lot of credit.
In 2005 there were 1.2 million walleye caught. In the Ohio waters of Lake Erie, of those 610,000 walleye were harvested and about 700,000 were released. Most of the released walleye were from the abundant 2003 hatch. May and June were the best two months producing half of the over 600,000 harvested fish. The Western Basin again produced most of the harvested walleye.
In 2005 Yellow Perch catches were good again. There were almost 6 million perch harvested. The size was a little small on average because most of the fish were from the 2003 hatch. September produced the most catches last year with 1.7 million perch harvested during that month.
Smallmouth Bass fishing improved compared to 2004. Almost 125,000 smallmouths were caught in the Ohio waters of Lake Erie. Of the 125,000 caught only about 7,500 were harvested. Best months were June and July which produced about 85,000 smallmouths.
Everything points to a super year on Lake Erie for 2006. The 2003 walleye hatch should average 17-20 inches and make up most of the fish that will be harvested this year. The ODNR has raised the March and April limit to 4 walleyes over 15 inches. The summer limit will remain at 6 fish per day per angler. There are still quite a few large walleye out in the lake that might make a fine mount.
Last year I had days on my charter boat that we caught and handled over 80 walleye a day. Most of these fish were 14 inches and had to be thrown back.
The perch that were from the 2003 hatch will be nice size keepers at about 9 inches in length. The limit was raised to 40 perch per day per angler and should provide great fish meals. More and more anglers will fish for these super eating fish because gas should be over $3.00/gallon. Perch can be caught much closer than the roaming walleye. All you need is a bucket of shiner minnows, a light spinning rig with a spreader and you'll load up the boat.
After many tough walleye fishing years, every angler anticipates a banner year in 2006. Plan ahead and bring your own good sized boat and seek lodging from the local hotels, condos or campgrounds. You might want to call the Ottawa County Visitors Bureau at (419) 734-4386. You can contact the ODNR in Sandusky for local conditions at (419) 625-8062. You can also get updates on the web at www.cadez-charters.com. Good fishin!