So Many Rods, So Little Time
by Rick Olson
So many rods, so many walleyes, so little time. Walleyes are a unique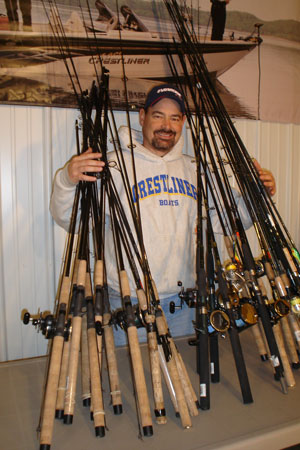 breed of fish and can adapt to a wide variety of situations, which when translated means you can find them doing a lot of different things in a lot of different places. It can take an arsenal of weapons (rods) to handle every situation, and why professional anglers (including me) carry three or four dozen rod and reel combinations to every tournament. In fact the total number of rods had been getting out of hand lately, and I decided to break it all down and see what was really needed and eliminate the surplus. What I found was that compromise could be reached and some rods consolidated, some could pull double duty and be used in more than one application, and a couple that were specific to certain presentations.
The process started by identifying all of the different presentations and techniques and then deciding what really was getting used. Compromise would try to be reached but not at the expense of a particular presentation, not when I have to fish for my next paycheck.
Jigging has proven over the ages to be an effective method for catching walleyes and is still just as deadly today. There's a number of different lengths and actions available and I've probably used them all but have always come back to a six foot rod with a medium light tip, like Rapala's Tournament Class model TS70SP60ML1. About the only thing that varies is the type of line I'm using and depends on the situation.
For pitching jigs to shallow rocks, weeds, or structure I'll always be using a four to six pound test high vis monofilament line because it makes line watching so much easier. Vertical jigging in deeper water can also be accomplished but a no stretch super braid in the same high vis color may be in order. Same rod, two completely different applications.
Rigging is another mainstay and a seven foot medium light rod is perfect for detecting subtle bites and battling big walleyes on light line like Rapala's Tournament Class model TS70SP70ML1 It's also happens to be an excellent rod for casting lighter crankbaits and for using slip bobbers. The difference again is the line; with mono covering most of the rigging (except the really deep stuff) and a braid for casting cranks and using slip bobbers. Most anglers wouldn't think of using a super braid with slip bobbers but it really does work and is perfect for working around trees and over sunken brush piles because of it's excellent abrasion resistance properties.
The longest rod in the box is a nine and a half footer with a medium light action tip like Rapala's Tournament Class model TS71TR96M2, that can be used for dead sticking or for cranking with a no-stretch line. The extra length is perfect for rigging up a lighter bouncer with a live bait rig and then putting it in a rod holder and waiting for the soft tip to reveal the light bite of a fish. The long rod is limber enough to keep a walleye from detecting your presence and give you time to pick up the rod and set the hook. It also has the right action for working with braided lines and crankbaits because you can see how a bait is running by the vibration in the tip, and because the long soft action will help you fight and land fish without ripping the hooks lose.
My bottom bouncers rods get plenty of use including live bait rigging and dragging a spinner and crawler harness around. In the past; a six footer covered the spinners and a seven footer was used for rigging. The compromise is a six and a half footer with a medium action tip like Rapala's Sportsman's Classic model SNC30TR66MH1 that covers both applications without really giving up anything.
Trolling rods can vary but an eight and a half footer casting rod with a medium action tip like Rapala's Tournament Class model TS70TR66M1 will cover most of it, and can be used with mono or leadcore. Mono is preferred for running cranks in shallow water and leadcore when you're dealing with deep water or current. The little stiffer action will handle the extra weight of the leadcore line and will let you see how your baits are running in the tip. By using a no-stretch leader in front of the leadcore I can actually see how a #5 Shad Rap is running in over forty feet of water, and running clean and straight is extremely important.
Armed with a half dozen rods and reels along with some extra spools filled with couple of different line weights and types you can cover just about any situation you're faced with. That is unless you can legally fish with more than one line, or you're expected to provide the equipment for a companion, or you're expected to provide the equipment for a companion and you can fish with more than one line. Are we back to where we started?