Spring Fling with Monster Pike
by Ron Anlauf
Hooking up with a big pike in shallow water is absolutely thrilling and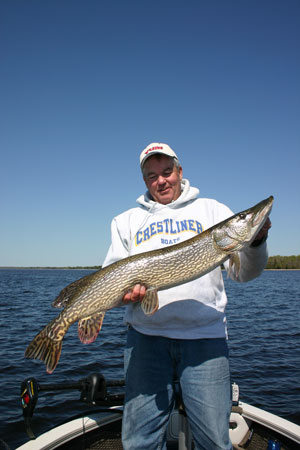 makes all of the time and trouble it takes to get the job done worthwhile. On the other hand; it really doesn't take that much time and it's not that much trouble, not if you're doing the right things in the right places. Armed with a little information and a handful of the appropriate baits you too can position yourself to catch a fish of a lifetime.
Peak conditions exist for catching every fish that swims and it's usually a combination of heavy concentrations that come at a time when the species in question is feeding heavily. Such is the case for early season northern pike and is a scenario that begs to be exploited.
Finding the concentrations is the first big piece of the puzzle to place and it usually isn't that difficult. The key is understanding a pike's basic spawning needs and that includes flooded grasses and vegetation. Typically you'll find suitable spawning grounds up an incoming creek or river. Creeks that run through low lying swamps are what we're really talking about, and is where most of the spawning will take place.
Pike make their spawning runs right after ice out and by the time most anglers can get to them the bulk have already come and gone, but probably not that far. They'll make their runs, do their thing, and then drop back into the main lake in close proximity of those very creek and river mouths. They'll hang around and spend some quality time gobbling up spawning perch, walleyes, and anything else that gets in the way. The mouths of feeder creeks and rivers then are concentration points, and areas that definitely should be checked out. More creeks means more hot spots, and probably more pike.
From the mouths look for the first break where a shallow flat drops into a deeper water. It doesn't have to be that deep, just enough to help create a concentration within a concentration point. That doesn't mean the pike will always be there, or that they won't go any shallower when the conditions are right, it just gives you a good place to start. Shallow cover like reeds and bull rushes in close proximity to the creek mouths are another drawing card because they will often hold big schools of spawning perch.
A hot technique for quickly working a break line includes trolling with a big jig at warp speed. Team Crestliner member Jon Janousek of Nisswa, Minnesota has been using the speed freak technique for years and has tagged some pike of gigantic proportions. "It might seem a little unorthodox and way too fast but it works. We'll tie on a 3/4 or 1oz Northland Tackle Bionic Bucktail Jig and hook on a big sucker minnow and get going. That means giving the 250hp Merc some extra throttle and you're moving!" At that speed it takes a big jig to stay close to the bottom even in shallow water, and is the key to being successful. With a big enough jig and enough line out you can get the bait close to the bottom but try not to let it drag. By watching the rod tip you'll see when you start to hit bottom because it will start to pop back and pull forward, so reel in the extra line until it runs smooth. Those no real action to the presentation, except maybe the body of the sucker which really shimmies at high speeds. If you can't get your hands on big suckers don't worry; you can do as well if not better by using plastic, like a Northland 5" Slurpies Jerk Shad.
It has a swimming whale tail that will give your bait plenty of action. To rig the sucker or the Jerk Shad run the main hook from under the jaw up through the head of the bait and fix the stinger treble on top near the dorsal fin. With the stinger on top you'll run cleaner and are less likely to pick up debris which will killyou're otherwise perfect presentation.
If the fish just don't seem to be on the break it might be time to move up shallow and try casting a bait more often associated with bass fishing, and that's a spinnerbait. A 3/8oz tandem Reed Runner spinnerbait is an excellent choice for working the shallowest water as it will sink slower and be quick to get up on top and out of old debris and vegetation. It can also be cast around and directly into reed banks, as well as right up to old stands of bullrushes and do it without constantly hanging up.
Even though shallow water pike can be extremely aggressive it's the perfect time to drop in the MinnKota and be as stealthy as you can because they can be spooked and spooked fish won't usually bite. If possible, try to run the trolling motor at a constant speed because even an electric can spook fish if it's stopping and starting.
So how big is big? Well it depends; On some bodies of water it's ten pounds, on another fifteen, and on the really good water it's twenty pound plus. The thing is it's all good when a plan comes together and is about as much fun as you can have! See you on the water.