Ice-out Perch
by Ron Anlauf
When the last layers of ice finally start to give way to open water, pan fish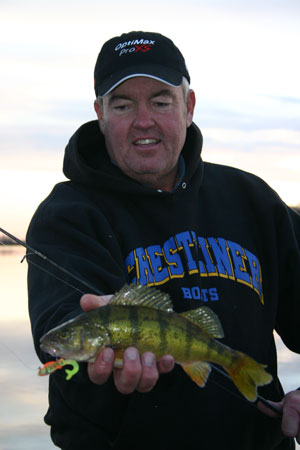 respond and will move into specific shallow areas where the can be readily caught, you just have to know when and where. Most of the early season panfish attention is directed towards sunfish and especially crappies, but there's one more member of the family that usually gets passed over and its jumbo perch.
Perch will make shallow water runs and are just as vulnerable but the action is usually short lived and you better be on your toes if you want to get your share. Unlike sunfish and crappies whose earliest runs are mainly feeding forays that can last for up to a month, perch come in to feed and spawn on the same run, and it happens fast. The good news is the action can be extremely intense and you can hit it big if you're in the right place at the right time.
Movements correlate with optimum water temperatures and typically occur when they have warmed up into the forty-five to fifty degree range, which closely follows the walleye spawn. Within a week or so of ice-out is what it really boils down to, but can happen almost immediately if the spring warm up and meltdown has been delayed. Even if the temps aren't quite there their bodies are still ready to go, so don't let temperature be your only guide.
Some of the better areas to start searching for all of that green and yellow gold are in the back ends of shallow bays and channels. Not so much the black bottomed sloppy pad field bays though, but something with a firmer bottom like sand. An incoming creek can be another early season magnet and will help warm things up faster than areas that would otherwise be the same.
Female perch will move in and lay their eggs by stringing it out across old vegetation and they don't seem to be that fussy about where they do it. Last years stands of reeds, cane, and cabbage beds etc. are all potential spawning sites. It really won't take that long to find out if you're in the right area once you start looking because in most cases they can be seen and readily caught.
The catching is what it's all about and is as pure as it can get. Casting and pitching light jigs tipped with a plastic trailer and maybe a minnow is what we're really into and is a great way to give your jigging skills a tune-up. A short cast to the edge of a weed bed, a close-in drop off or break line, or the middle of a bay will get you started, and all of the aforementioned has the potential to hold active perch. And don't be afraid to pitch up into real shallow water, because you just never know and you don't want to overlook anything.
Light jigs and plastic combinations like a Northland Tackle Slurpies Panfish Tube or a Swim Shiner, is perfect for working shallow water perch. When the bite's on the plastic is all you'll need, but if it's off or they're a little sluggish you might want to tip it with a smaller minnow.
You can use the same gear you'd use for taking on ol' marble eyes and includes six foot light action spinning rods like St. Croix's Legend Tournament model TWS60LF which has a fast tip and is a perfect jigging rod. The difference over walleye gear would be the use of lighter line and four pound test green Silver Thread would be more applicable. The lighter line will give you more control and better feel with the light jigs, and is less affected by the wind than the heavier stuff.
Perch are fun to catch, great to eat, and not all that tough to pin down. Ice-out perch action can be absolutely phenomenal at times, and is really a matter of perfect timing and the window of opportunity can slam shut much too fast. A little too soon or a little too late and you could miss the whole thing. But if you're ready for it and take the time you could easily find yourself in middle of a bay chock full of pole bending jumbos, and it doesn't get much better than that. See you on the water.