Dog Days Bronzebacks
by Capt. Phil Cadez
The Western Basin of Lake Erie averages only 23 feet deep.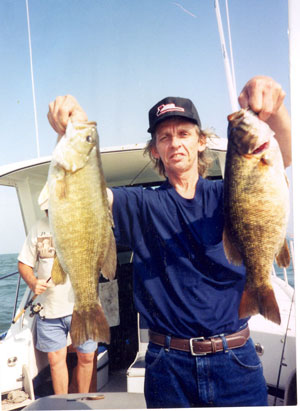 In August the water temperature can and will go over 75 degrees when thereís high pressure areas holding, the water will become very warm. Those ďdog daysĒ as theyíre called can make it very tough to have good walleye fishing. A few ardent anglers and some charters get great fishing action when they switch to deep water smallmouth fishing.
Many fishermen feel that, pound for pound, smallmouth will out-fight any freshwater fish. His tenacity to never give up makes him a prize for sportfishermen. Landing a five-pound bronzeback, or jumper, as they are called, can really put a smile on any anglerís face. Smallmouth are called jumpers because of their ability to leap high into the air to try to spit the hook.
Smallies usually spawn in late May, then seek shelter in deeper rocky places near their favorite food. As the water warms they sometimes school deep dropoffs, rock piles or breaks in structured bottom. This is when the jumpers are the easiest to catch.
Because of water nearing 80 degrees, jumpers might go to 25 feet or even 35 feet in depth. A fish locator is an anglerís best friend when it comes to finding submerged structure suitable for bronzeback action. Live bait fished near the bottom is probably the best way to fish. Tube jigs, Power Grubs and salt tube jigs with heavier leadheads will work it itís calm and your drift is slow. The tackle used usually consists of light spinning or baitcasting combinations. Rods are usually short, but firm, 5 to 5-1/2 feet in length with graphite composition.
Open faced spinning reels are spooled with size 6 to 8 pound test monofilament line. Spider Wire and Fire Line are also becoming more popular. A Ĺ ounce egg sinker with a hole through the center is threaded up the line. You can use a swivel on a 24 inch leader with a hook on the end, or use a split shot placed on the line approximately 24 inches away from the hook. Either way you hook up this rig, it will keep the slip sinker away from the bait. A number 24 or 26 center drought Mustad hook tied securely to the end of the line is the most preferred rig.
If the wind is slight, and the drift is slow, you can locate the right depth by dragging soft craws or leeches near the bottom. If the drift speeds up, use heavier slip sinkers. Some anglers have the bait set and set the hook early while others open the bail and let the fish go with the bait. Either method works providing the fish has the bait securely in its mouth.
When youíre sure the fish has the bait, set the hook and hold on. Soft craws are the best bait and are sold in local bait shops for approximately $5.00 per dozen. Make sure you have at least three to five dozen per person, because sheepshead also love this tasty bait. Hook the crawfish by the tail and try to keep it close to the bottom.
If you have located the fish near some structure, you might mark it with a buoy so you can keep drifting by it or you can anchor on or near the honey hole. Anchor with a long line so that you can change positions without starting the motor by taking in or letting our more anchor line. When anchored, drop the crawfish to the bottom, but keep the sinker 6 to 12 inches off the structure. Again, you can set the hook early or, better yet, let the fish run with the bait. Set your drags easy, or youíll break the line with the tension of these fighting bronzebacks. If you find junk fish such as white perch or drum hitting your bait, let out more line to change your position. Keep moving until you start catching mostly jumpers. You might have to move many times to find the right position. When you find it youíll know in a hurry. Iíve seen 6 lines in the water with 5 fish on at a time. Iíve put three fish in the net at the same time.
If you want to in on this super fishing, bring a good sized boat or book a charter with an experienced local guide. Bring a wide brimmed hat, lotís of sun block and lotís of water or soda. Purchase a chart showing the Bass Islands and Canadian Islands. Youíll need to get a license if fishing in Canada. It will cost you $14.00 a day at West Dock on Pelee Island. You can call 1 800 BUCKEYE or e mail me at [email protected]. Good Fishin!