Lake Erie Trolling
by Capt. Phil Cadez
In the early years of great walleye fishing (1970,s to 1900,s) on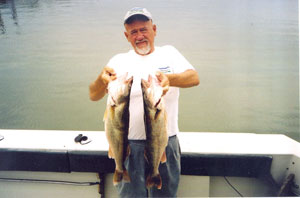 Lake Erie most anglers difted and cast Erie Dearies or some form of spinner bait with a worm on it. Because of the extreme fishing pressure and clearer water the fish somehow got a lot smarter. Trolling has been a very popular way of catching walleyes the last decade.
Trolling has a distinct advantage of being able to keep the baits at the right strike zone. Anglers experiment with different depths and colors and are allowed to use two rods per person. That, s why this type of fishing has out-produced the pure casters. When it comes to a charter boat there is usually 6 persons and a captain aboard. This means 14 rods can be trolling at the same time with the use of plainer boards to spread out the baits.
Without getting too elaborate you might want to keep it simple and start off with 2 to 4 rods. Get yourself a few Shakespeare Ugly Stick Dipsy Rods to get started. A Dipsy Diver is a devise to keep your lure down and can be set to go left or right ,away from the boat to spread your pattern. These rods are 7 to 10 feet long and are firm. The reels should be a bait-casting level winding type of reel with a line counter on them . This will help you determine how far back your lures will be traveling.
Trolling lines are up to the individual angler. A suggestion might be to spool 30lb. Braided line that sometimes can be as thin as 10 lb. Line. Tie a swivel to the end of this line and attach a leader from 4 to 6 feet of 20 lb. Mono line to that.
Stinger spoons of 3 to 4 inches will usually out perform most other baits. Colors vary from gold, copper, silver, and white. Most of the favorite lures are multi-colored and have strange names. Spoons might have a multi-color on one side and a plated surface on the other. Most popular colors are shrimp, watermelon, and fed head in the summer.
You'll want to troll at speed of 1.7 and 2.2 mph. If your speed is too fast even at an idle you ll need trolling bags on one or both sides of the boat. These are really a smaller version of a sea anchor.
If you have two rods you might want to set them to go out away from the boat. Underneath the Dipsy you, ll notice you can set them at '0' which let, s you drag them straight. The other numbers are 1, 2, 3, pulling port or starboard. If you have 4 Dipsy rods set the first set at no. 3 port, then no, 3 starboard. Finally set the last 2 rods at no. 1 also port and starboard. This will give you a good wide pattern following the boat. Let the outside lines out about 90 ft. and the inside lines lines at 75 ft. out from the boat.
Another way of really spreading the pattern is to use Yellow Bird or Orange Plainer Boards. These plainer boards pull out away from the boat and are used on the outside lines. These are small plainer boards usually 8 inches by 3 inches. The same reels are used but you might want to go to a Shakespeare plainer board rod from 6 to 8 feet. These rods are a medium –light to light –bend rod.
A small flag is sometimes mounted on the board to make them easily spotted. Set your drag easy on your reels. As a fish grabs the lure it will release them and you will find that you will land the fish near the center of the stern. More line in the water catches fish ,but it make for more work.
When on a charter with lot, s of rods in the water you must remember to just hold on to the pole until it swings to the back of the boat before setting the hook. If you set it too early you could foul all the rigs on the side you are on . This could become a real cluster.
Weather you cast or troll in 2006 , you, ll have a ball because it, s been one of the greatest seasons in the last 15 years because of the 2003 hatch. There, s millions of walleye out there and they all got to eat. Limit catches have been coming in all year on the charter and private boats as well. Bring your own good sized boat or secure a charter with a local experienced guide. Some helpful information can be gotten on the web at www.dnr.state.oh/us. or www.cadez-charters.com . GOOD FISHIN!