Now or Never for Monster Smallmouth
by
Ron Anlauf
Itís now or never if youíre into catching giant small mouth.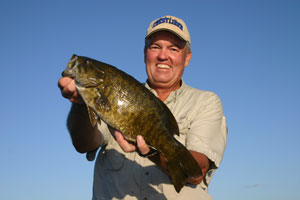 Late summer and early fall can be your best opportunity for hooking up with the largest of the species and can make for some phenomenal action. While smallies may be difficult to pin down during most of the open water season, now is when they become predictable and extremely vulnerable. Vulnerable is exactly what youíre looking for and a situation that you can definitely use to your advantage.
By late summer smallmouth bass are deep into a serious feeding binge which can play right into your hand. During most of the season smallmouth activity periods can be rather short lived which makes them unpredictable and rather frustrating. But that was then and this is now. Now smallmouth can be expected to be active all day long and become downright voracious. Itís a time when they are often seen chasing down minnows and busting the surface, and nothing is safe. The key is being there when it happens and more importantly; where it happens.
Hot smallmouth structure always starts with a solid base of rocks, especially in the three to five foot range and the more rocks the better. The reason for a smallmouthís attraction to rocks is all of the feeding opportunities they can provide as they will play host to all kinds of baitfish, and more importantly all kinds of crayfish. All those cracks and crevasses can conceal thousands of delectable crayfish ( at least to the smallmouth), which occasionally make the fatal mistake of being out in the open where they become vulnerable to the attack of a hungry smallie.
Finding good rock structure starts with the best map you can get your hands on, and then getting on the water and looking for marker buoys. Rocks that are that shallow present a navigational hazard and should have buoys on them. To investigate even further a good pair of Polaroid sunglasses can be invaluable. Ifitís calm enough you can actually see just how the rocks are laid out and can help you keep your trolling motor from banging into them.
Look for rocks that are larger than the rest and even separated as they will often hold the most fish.Smallies will often set up at the very base of said rocks, and is a situation that youíll definitely want tocheck out. Good electronics like Marcumís LX-5 is a flasher type depth finder that is an excellent tool for working the edges as it provides an instant readout and can keep right where you need to be.
Good smallmouth bass presentations include smaller crankbaits, tube jigs and plastic lures, spinner baits and even top waters. Bait selection will depend on how the structure is laid out, existing weather conditions, and time of day.
Crankbaits, like the Rattle Trap are perfect for working the most shallow rocks, as they run relatively snag free and can mimic the action of a crayfish scrambling for cover. Cast the bait across the shallow cover and reel just fast enough to allow the lure to occasionally bang the bottom. If youíre working deeper rock cover wait a second or two before you start your retrieve to allow the bait to reach the proper running depth. The Rattle Trap is a sinking bait and can be worked effectively at a variety of depths.
Tube jigs are more effective when casting to the edges of rock ledges and drop offs, as well as the base of those aforementioned isolated rocks. The technique involves casting to the edge and allowing the tube to settle to the bottom and waiting a moment or two before moving the bait with the rod tip. Instead of the standard pull and stop retrieve you might want to try giving the rod tip a couple of tiny pops which imitates the natural movements of a crayfish scurrying for cover.
Tubes and plastic baits can be rigged Texas style or with an exposed hook. Texas style will mean fewer snags, but it will also mean fewer fish. A better alternative is to use a jig head like Northland TackleísInner-Tube that has been run up and buried inside the tube.
Top water baits offer the ultimate smallmouth experience as itís hard to beat the excitement of a big smallie smashing a bait on the surface. If that kind of action doesnít get you revved up nothing will. Productive top water lures include jerk baits like the Zara Spook or chugging baits like the Skitterpop.
You can work the Spook with a twitch, twitch, twitch retrieve while the Skitterpop can be worked slow or fast, but a quick pop, pop, pop is one of the most productive techniques. The result is a lot of commotion that resembles a minnow dancing across the surface trying to escape.
Regardless of the bait youíre using it generally pays to delay just a moment before you set the hook. By doing so you give the fish time to grab the bait and turn with it, which greatly increases your hooking percentages.
Early in the morning and late in the day is prime time for working top waters and any time you have dead calm conditions, especially if itís hot and humid. Crankbaits like the Rattle Trap can produce all day long and do so under just about any condition. Tubes and jig worms always have a chance and may be your only option if things get real tough, like after the passing of a cold front. See you on the water.