Well Rounded Walleyes
by Ron Anlauf
Catching walleyes consistently is a simple matter of being prepared and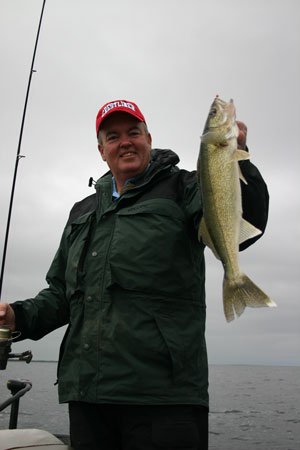 versatile enough to be able to take advantage of opportunities that become available. Versatility can help you overcome a tough fishing situation, or make the most out of a good one.
Top tournament anglers like Team Crestliner member Rick Olson of Mina, South Dakota know just how important it can be, and the most successful have made becoming more versatile their number one priority. "When traveling the country competing in tournaments on waters ranging from the Great Lakes to natural lakes, and from rivers to reservoirs, you have to be versatile to be successful. You can't always rely on a specific method to get the job done which means you better be ready to do it all to have any chance at cashing a check."
During the early years of big time walleye tournaments you could pick who was going to do well on certain waters by their background. If they came from Ohio or Michigan there was a good chance they would dominate an open water trolling bite, while the Midwest anglers were a safe bet for doing well in a rigging or jigging bite. Western anglers excelled at rigging, jigging, and trolling contours with crankbaits. However, it didnít take long before the local advantage disappeared as the rest of the field got up to speed and became much more versatile. They also learned that the knowledge gained on the trail helped to unlock a few more secrets on their home waters.
Once you achieve the ultimate level of "being versatile" your confidence level will explode, and confidence is the most important element of overcoming a tough angling situation. When you possess all of the tricks in your bag youíll have the confidence needed to handle any situation that you may be faced with, which can open up a whole new world of opportunities.
Being versatile isnít something that comes easy though, and is achieved by spending a good deal of time outside of your comfort zone. Getting outside of the comfort zone means letting go (or at least putting aside) what you already have confidence in, and getting into the experimental mode.
The experimental mode will likely cost you some time, time that could be spent doing other things like catching walleyes using the usual methods. But that wonít help you grow as an angler as there is a price to be paid to get to the next level. Before an angler can claim the title of being "versatile" thereís a certain set of criteria that must be met.
The criteria includes becoming proficient using a variety of methods under varying sets of conditions. With so many different methods available to the modern walleye angler itís easy to get confused and maybe even lost. Rather than spreading yourself too thin trying to learn it all at once, youíd be better off concentrating your efforts on one specific presentation and mastering it before moving on to the next.
If youíre starting from scratch you might as well start at the beginning with the most basic of techniques, like jigging. Jigging is one of the best ways to extract walleyes from a variety of situations as they can be cast, jigged vertically, and even trolled. Take a jig like the Northland Fireball and maybe tip it with a minnow, leech, or piece of crawler and youíre in business.
Next on the list of basic presentations is rigging which has a number of options available including sliding sinkers and long leaders, a simple split shot and a hook, or a bottom bouncer and live bait combination. Itís all designed to deliver live bait as naturally as possible, and what you chose will depend on the area you happen to be working.
A twist on the standard live bait rig is a spinner harness, which will allow you to present a natural bait like a night crawler and give it some added wiggle and vibration, as well as a good measure of speed. Spinners real come into play early in the summer period when water temps start to push into the sixty plus degree range.
Crankbaits are next and have a higher difficulty rating than rigs and jigs but are definitely worth the time and effort needed to learn their uses. They can be either cast or trolled along structure from shallow to deep, or out in the middle of nowhere when the fish are found suspended.
Whether youíre casting or trolling, it would be a good idea to stick with a bait that is a known producer like a Shad Rap, Walleye Diver, or Reef Runner. That will allow you to spend more time concentrating on exactly where youíre running the bait, and less time wondering if youíre using the right lure.
While there are several trolling options like using braided or leadcore line, it would be a good idea to get comfortable with monofilament first. From there you could try a braid, followed by leadcore which is in a class all by itself.
The thing is, even though there are variations to just about everything youíre usually better off keeping things simple. By keeping it simple youíll be able to master the basics quickly and get you closer to the goal of being a well rounded and more versatile angler.