Crankin Late Summer Bigmouth
by Ron Anlauf
There's no better time than the present to start cranking up late summer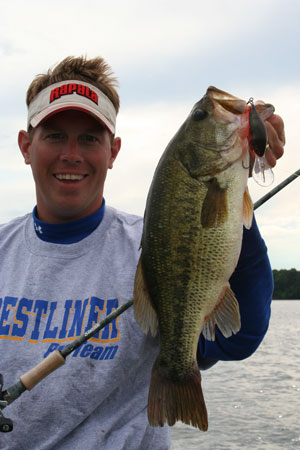 largemouth. Summer heat can slow things down, especially if you haven't made the adjustment and picked up the pace. A crank burned over or through the right cover can appeal to a bass and its wound up metabolism and get noticed when other methods come up empty. When it doubt there is no doubt; you might as well chuck a shallow or deep running crank and see what you can come up with.
Suitable cover includes weeds, the greenest and healthiest looking stuff you can find. Wherever you find good weeds you'll probably find bass. They hold plenty of preferred forage all season long, and is the main reason bass can be found hanging out in and around all of the vegetation. The challenge is to put together a presentation that is appealing enough to get their attention and is where the right crankbait in the right place can really produce.
Crankbaits are designed to imitate numerous types of forage like minnows, shad, bluegills, and crayfish. A crankbait worked across the top of a weed bed is more likely to mimic baitfish while a crank banging into the bottom might be more apt to represent a crayfish. The idea is to duplicate what they're already munching on and try to make them think they're doing the right thing by scarfing up your bait.
Speed is a key and now's the time to apply maximum warp. Everything is moving faster including their prey, so bass are already in tune with a quick moving target. That being so there are still times to slow down and work a little slower, like after the passing of a cold front. Tough times like might call for something else and could include using a jig worm, or maybe a drop shot rig, or dead sticking a weightless Slurpies Dipstick worm. Steady weather conditions and warming trends are another story, and is when you can load the boat with the right crank bait.
Finding the right crankbait is a process of trial and error (at least to start with) and it may take some extra casts in more than one area to figure out. Team Crestliner member John Janousek has his time tested favorites and knows that what he's throwing works; it just has to be in the right neighborhood. "What I start with depends on just how deep I'm fishing and what I'm trying to accomplish. Shallow water cranks like a #7 Fatrap, Dt-6, or maybe a Rattle Trap are perfect for burning the tops of weed beds. If I'm trying to work the deep edge of the weeds I might use a DT 10 or a DT 16."
Burning the tops of deeper growing weeds is a classic mid to late summer pattern that can produce big results. Cabbage weeds that grow to a couple feet under the surface are perfect for burning a crankbait through. Cast the bait in as far as you can and get your rod tip down and start cranking. With the rod tip down you get a better feel for what's going on and puts you in the right position for setting the hook when you do detect a strike. You're also going to hang up with plenty of weeds but that's part of the program and the price you'll have to pay to get bit. Baitcasting equipment is preferred for the technique and will give you the leverage you need when you do hook up with a heavy duty bass. St. Croix's Avid Series model AC66MM is a 6'6" medium action rod that's perfect for throwing the lighter baits and has a light tip that will get you some distance and yet has plenty of backbone for getting a fish up and out of heavier cover.
Weeds that top out a little deeper can be worked with baits that are designed to dive to a specific depth like the DT Series which has variations that can run at four, six, ten, and sixteen feet. The deeper running baits are good bets for working the deep edge, especially the base. Parallel casts are preferred because they can keep you in the zone a lot longer but you may have stay off the edge and cast into the flat and work it back out, especially if the fish are schooled up tight in the weeds. In that case you can try pitching it to the tops of the weeds and crank it slowly until you get to the edge and then speed it up to get the bait to dive down the face of weed bed.
Summer bass will typically school up and if you find one chances are there's more in the area and it may pay off to work a bait through the same area over and over again. One of the keys to successful cranking is sticking with it and not giving up, and it can pay to be persistent. Many times it's not the first cast, or the second, or even the third that gets bit, but maybe the tenth or even the twentieth, all through the exact same area. Maybe it takes that long to get their attention or to get into position, or maybe they just get mad, whatever the case multiple casts to the same spot can result in more fish hooked. See you on the water, with a crankbait.