Late Ice Jumbos
by Ron Anlauf
Just because the walleye season may have officially closed (depending on where you live)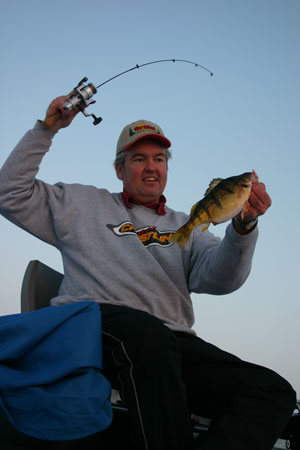 doesnít mean you have to give up on ice fishing. To the contrary, some of the best action of the entire season is yet to be had. Although to get in on the fun you will have to make a few minor adjustments, like selecting a new target.
Jumbo perch make for a top late ice pick, and for good reason. For one, the big perch really get going and is a time when phenomenal catches are often made. For another, itís generally much more comfortable with afternoon air temperatures pushing forty and even fifty degrees on the nicer days.
Contrary to popular belief, those soaring air temperatures do not have an immediate effect on the overall condition of the ice. It actually takes an extended period of extremely warm air temps that last through the night to start to breakdown the ice. Even with afternoon air temps pushing fifty plus degrees those highs are often reached for a very short period of time. And if night time temps are dropping below the freezing mark you get into a period of limbo that can keep ice conditions in the safe zone for an extended period of time.
The first good thaw of the late ice season usually does little more than melt the remaining snow cover and makes getting around a lot easier. However, when it does happen the melted snow will run into any open hole or crack and can turn a small opening into something much larger, and can present a real danger if youíre not careful. Early late ice is usually safe enough to support cars and trucks, but will be restricted to foot and ATV travel late in the season.
Finding late season perch is not all that difficult fortunately, and is another good reason for zeroing in on green and yellow gold. There is a definite migration that late ice perch go through, and will lead them back to many of the same places they started the ice fishing season on. Good places to look include rocky bars and reefs, as well as sandy flats and drop offs. These areas can really load up with perch and can make for some fantastic action. However, if youíre looking for the largest of the species you might want to spend a little time in no manís land, out in the middle of nowhere.
Main lake basins often hold the key to finding the real jumbos late in the season, and may require a good deal of effort to pin down. Because perch can be anywhere you have to be prepared to fish just about anywhere, and a mobile run and gun approach is probably in order. The key is staying on the move until you start to find a few fish and there arenít any real shortcuts. What you can do is try and scout a lake by carving it up into slices, and the size of the slice will depend on the size of the lake. Larger lakes have more hiding places and you may not be able to get the job done in a day, but you can try.
Portable fish houses like the Fishtrap Yukon are the rule as you really have to be mobile to catch up with wide open perch. The Yukon is a new two man house that is big enough for two but yet nice and light and easy to move. It sets up in seconds which means you can make more moves and cover more ground in the course of a day thus increasing your chances of running into the mother of all schools of perch.
To find fish youíre going to have to drill some holes and cover a lot of water. Although a depth finder shot right through the ice will reveal the depth, the presence of perch can be overlooked as they are often holding belly to the bottom. To know for sure if perch are in the area youíll have to drop down a bait like a jigging spoon and see if anything is around. A small spoon like the 1/16oz Buck Shot Rattle spoon tipped with a minnow head gets down the hole fast and will attract anything that may be close by. If youíre seeing fish but not getting any takers you might try a Buck Shot Dropper tipped with a waxie or two. The Buck Shot Dropper is a jigging spoon that has had the treble replaced with a short leader and single colored hook.
The leader gets the bait away from the spoon and can trick reluctant fish into making a fatal mistake. Another problem you could run into is small fish which show up and look, but arenít big enough to take the bait. With the Marcum LX-3 and itís three colors and 1500 watts of power you can decipher small fish from large simply but watching the flasher. Small fish are going to show up as yellow and even orange marks while larger ones will be red. The key is not turning your gain up too high, which can turn small fish into red marks.
Another good option for getting a handle on what youíre really looking at is dropping down an underwater camera like the Marcum VS560 and seeing for yourself. The VS560 has a camera that can be rigged to shoot straight down and can be suspended over a pod of fish and give you a different look. It can also help with the spooking factor if you fear that it might be a problem.
Active fish show up rather quickly if theyíre around, and it doesnít really pay to waste time trying to wait them out. Instead youíd be better giving a spot no more than maybe fifteen minutes or so and getting back on the move if nothing shows up. You can end up covering a lot of ice and get a real workout but the rewards can be exceptional. See you on the ice.