Ice-Fishing for Walleyes
Different Lures for Different Situations
By Bob Jensen
Ice-fishing is similar to open water fishing in at least one way: There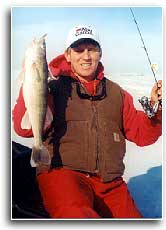 is a wide assortment of lures available to ice-anglers. Some open water lures catch fish through the ice, but there are a few lures that have mostly ice-fishing appeal. As with open water lures, selecting the proper ice-fishing lure will increase your chances of getting bit.
If walleyes are the target, traditional baits like jigs and a simple hook/split-shot rig will do a good job. However, in many situations, jigging spoons or Airplane Jigs will do an even better job.
Jigging spoons are a chunk of painted metal or lead with a single hook molded into it or a treble hook attached with a split ring. The bait is designed to flutter as it falls. Jigging spoons have attracted a strong following among walleye anglers and are probably the most popular lure for walleyes when it comes to ice-fishing.
The Buck-Shot Rattle Spoon is a jigging spoon with a built-in rattle chamber. These rattles give the bait a very unique sound, and sound can be a real aid in triggering walleyes to strike. In stained water the rattle helps the walleyes find the bait, while in clear water it will attract them from farther away.
Another style of lure that is very popular with walleye anglers is the Airplane Jig. This bait has wings that enable the jig to swim in half-circles as it falls. Unlike a jigging spoon, an Airplane Jig will kind of "fly" as it falls. At times, the "flying" action of the bait really attracts the fish and triggers them to strike.
Jigging spoons and Airplane Jigs are almost always tipped with some kind of attractant. A minnow or minnow head has been popular and productive for a long time and continues to be. However, in the past couple of years, ice-anglers have been adding Gulp! Maggots to these baits. If you are using a spoon with a treble hook, put a Maggot on two of the hooks to increase scent and enhance color.
If using a bait with a single hook, trying adding a couple of Maggots, and hook them so they dangle on the hook. Instead of threading them onto the hook, just lightly hook them through one end.
Color and lure action are very important considerations when using the baits for walleyes. Sometimes they want a fast jigging action, other times they prefer the bait barely moving. There are times when you'll get bit the best when you just shake your hand a little bit while hanging onto the rod.
Keep in mind that walleyes under the ice can show a preference to a particular style of lure just like they can in open water. If you remember this and try the different types of lures, you're going to catch more fish.
For more fish-catching information, visit www.fishingthemidwest.com