Icing Missouri River Walleyes
by Rick Olson
Lake Oahe is a massive reservoir that provides some incredible angling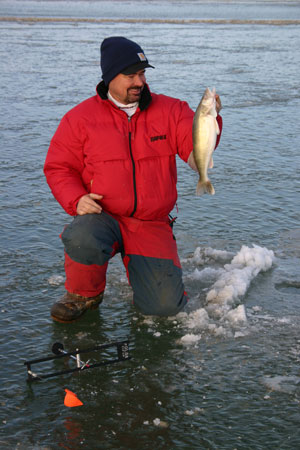 opportunities and the hard water period is no exception. From ice up to ice out big catches of fat and sassy walleyes are often made and the action can be hot and heavy. Anglers who have done their homework and know where to look typically can expect to find mega schools of willing walleyes and the forecast for this upcoming season looks good, really good.
Trends are what you look for when it comes to predicting the future and the trend has been excellent withsteady summer action that lasted right through the fall. The hot bite should pickup again where it left off and keep going through the rest of the winter period. The key is knowing where to look, what to look for, and determining what exactly all of those walleyes really want.
Although you can find active walleyes up and down most of the reservoir; one of the hottest bites occurs in the Mobridge area, from the Moreau River to the North Dakota border. Year after year the Mobridge area produces some of the most consistent action on the entire river system and is always a good bet for finding and catching numbers of wintering walleyes.
Hot spots to look for are edges, edges of underwater points, the main channel, and flats where they drop into deeper water. Deeper is one of the keys to look for, including depths down to forty feet or more. That doesn't mean you're going to find most of the fish deep because they can definitely be shallow, it's just that it's good to have all of the options.
Finding shallow fish will depend on the conditions like snow cover or lack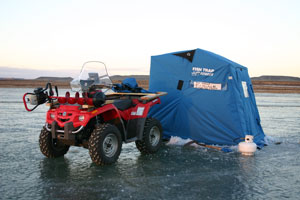 thereof, or whether you're dealing with dark or clear water. Dark water can help bring fish up shallow, as shallow as five or six feet. Incoming creek arms are often darker than the main reservoir and where you could expect to find the most fish shallow. Snow cover is the key to a good shallow bite in clear water, and probably a total waste of time without it.
Early season walleyes will often show up in shallow water if the conditions are right, and then slide deeper and deeper as the season progresses. It's a classic winter movement but you never know for sure where they're going to be so you better be prepared to do it all.
Finding likely structure can be as easy as pushing a button and following a course that takes you exactly where you want to go. It's that easy if you're using a G.P.S. with a plotter that can display a high definition map and why my ATV has a Raymarine 425 mounted on the handle bars. With the 425 I can load a Navionics Gold Map card and see the structure I'm looking for and exactly where I am in relation to it all. It saves time and can be a real safety factor, especially if you stay too long and are running back in the dark.
Tip-ups are an invaluable tool for pinning down exact location and allow you the flexibility of covering multiple depths and varying structure all at the same time. In South Dakota you can use up to four lines which gives you plenty of options. A good combination includes setting out tip-ups up and down a break line, and then keying on a high percentage spot with a jigging spoon. The existing weather conditions will determine whether or not it's worth setting out tip-ups as extreme cold and wind can shut it all down. In that case you may be better off staying inside your shelter and working a jigging bait down one hole and dropping a set rig below a bobber down another.
Jigging baits like Normark's Jigging Rap are hot early season producers and can get the job done all season long. If you're working the Rap it usually won't take long to know if you're in the right place. Whenthe fish are really active they'll come charging in and hammer the bait. If they're off they may come charging in and just look, and is why it's a good idea to have a set bait down another hole. A minnow sitting just off the bottom may be more than the walleyes can stand and is a good hedge if you're not sure just how fired up they are.
If you decide to give the Mobridge area a try call ahead and get an update on ice conditions and be sure you know what you're doing as reservoirs can be a dangerous place. The thing is there's incoming creek arms and rivers and you're going to have current to deal with and there could be areas that are completely unsafe. Take the time to find out where they are play it safe. You can call Bridge City Bait at 1-605-845-3132 to get a current report.
Another great option is hiring one of the local guides who can set you up, get you on the fish, and keep you safe. In the Morreau area Schilling Outdoor Adventures can provide an all inclusive trip including lodging and guiding and can be reached at 1-877-357-3583. In the Mobridge area Denny Palmer is the man to call and is the proprietor of the Mo-Rest Motel and Guide Service at 1-605-845-3668.