Preparing for a "Lucky" Season
by
Gary Parsons and Keith Kavajecz
Is luck a part of walleye fishing? Oh sure, we've all heard the stories of the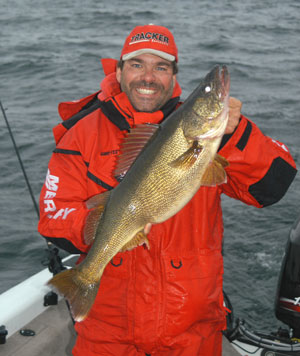 first-timer going out with a borrowed rod and reel spooled with two year old line and "lucking" into a ten-plus pounder. That could be viewed as pure luck. But what about that guy in your fishing club that inevitably ends up every year walking away with the majority of the awards? Or that group of tournament anglers that consistently make the year-end Championship again and again … or even the anglers that just always seem to do well at finding and catching fish on your home waters year in and year out - are they just "Lucky"? It all depends on your definition of luck. We've heard luck defined as "a result occurring following exhausted effort", and "preparation meeting opportunity". So if you want to become a "luckier" angler this upcoming season, perhaps a bit of "exhausted effort" and "preparation" is on order.
Preparing to be a"luckier" walleye angler can be a time consuming, yet very enjoyable process. Tackle organization is one of the key steps to being a well prepared walleye angler, and if you live in the part of the country we do, it's a great way to fend off the winter blues. By now it's probably been several weeks (maybe even a couple months) since you last opened up the old walleye tackle box. After a long and fruitful season of fishing trips, chances are it doesn't look nearly as well organized as it did last spring. That makes it a good place to start your preparation for the upcoming season.
If you're like us, your crankbait boxes are in need of some serious attention. Sorting the baits according to style, depth range and color will insure you'll quickly be able to find the right lure when the time comes. As you sort, be sure to check the hooks. If they are showing signs of rust and/or wear, now's the perfect time to change them out. All you need is a pair of split-ring pliers and an assortment of replacement hooks.
Don't skimp on the hooks either ... remember, this is the part of the lure that either hooks the fish, or doesn't. If you've ever lost a big fish at the side of the boat, you know the feeling a bargain hook can cause. For the ultimate in replacement hooks, consider going to Mustad Ultra Point Triple Grip Treble Hooks. These unique wide bend, fine-wire hooks hold fish like no other. They come in a wide range of sizes to fit any crankbait, and feature Mustad's super sharp, super durable Ultra Point technology. You'll also want a few spare split rings available to replace any of those that are showing signs of rust.
Every well-prepared walleye angler should have a supply of spinners and livebait snells in his arsenal. Since most of these are tied on monofilament line, be sure to check them carefully for any signs of wear. A good policy when it comes to these is if it's out of the original package, it probably needs to be replaced. Spinners can be stripped and the components salvaged to tie new ones, but it's usually a good idea to tie those with new hooks.
If you do tie a lot of your own spinners, be sure you have a good supply of blades on hand. The Bass Pro Shops Walleye Angler line of XPS Spinner Blades have proven to be real winners. They come in four popular shapes (Colorado, Indiana, Chopper and Hatchet), are available in all the right sizes, and feature real "eye" catching holographic finishes. Teamed with the Walleye Angler XPS Blade Spacer bodies (used on spinners in place of beads), you can arm yourself with some of the deadliest spinners on any walleye water.
As long as you're checking out the livebait gear, you'll want to be sure you have plenty of weights and bottom bouncers. The typical walleye angler will carry a lot of lead around in the form of everything from split-shots to Snap Weights. Bottom Bouncers are very versatile, and have become the walleye angler's "go-to" weighting system for most livebait presentations. Don't forget the other necessary terminal tackle either, like swivels, snaps, and beads.
One part of the walleye angler's arsenal that often gets over looked is the live bait itself. If you want to be better prepared for the upcoming season, you need to make sure you properly store and maintain your bait too. Frabill has a line of live bait management products from aerated bait buckets to long-term storage systems for nightcrawlers that makes bait care simple. Whether you're storing bait for weeks at a time, or just over the weekend, keeping your bait well and lively is critical to success.
Taking a little time for some light maintenance on your rods and reels is a good thing to take care of now too. Strip last season's fishing line off your reels, clean the dust and grime off them, and put a few drops of lubricating oil on the moving parts. Loosening the drag on your reels while they're not in use will also help them to last longer and serve you well in the seasons to come.
One more thing you might want to do to prepare for the upcoming season is to upgrade your electronics. New advancements in sonar and GPS technology seem to come out every year. Maybe you're ready to move to a color display unit, or just one that has more power and resolution. Even if you're not in the market for a new unit, there may be software upgrades available for your current electronics. If you run a Lowrance unit for instance, you can go to their website (www.lowrance.com) and look under "Free Product Software Updates". Downloading an update only takes a few minutes and may be just what you'll need to be better prepared to find and catch more walleyes.
As you look forward to the upcoming walleye fishing season, remember … luck may give you one great fishing trip a year. But if you want great fishing all season long, don't just hope to be lucky, prepare to be lucky. That way when the opportunity comes along to have a successful day on the water, you'll have a lot more than luck on your side.
Editor's Note: If you have questions or comments on this or other articles of ours you may have read, contact us through our website at www.thenextbite.com.