Top Water Panfish, in February
by Ron Anlauf
Some of the season's most exciting action is happening now and it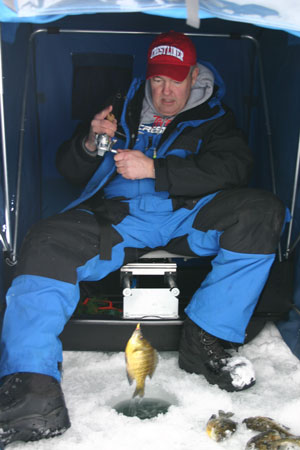 could be right below your feet. Red hot panfish action below your feet and just below the ice is what we're talking about, and is a pattern that is often overlooked. Anglers get tuned into fishing the bottom or just above it and really never give the top layer of the water column a second thought, but they could be missing out. In the right situation sunfish and crappies will often cruise just below the ice and can be an easy target, if only you give them a chance. The right situation includes decent water clarity and a shallow weedy flat where some of last year's growth is still standing. Team Crestliner member Reed Noreen of Andover, Minnesota has been taking advantage of the situation for a number of years and has found that the best areas for finding standing weeds is in current areas where it flows through shallow weedy bays: "I'll look for an inlet or outlet where current is passing over a weedy flat and start looking for high riding fish. You may have to drill a quite a few holes to find them but it can be a whole lot of fun when you finally do!"
Good electronics are extremely important for finding and catching fish through the ice and many anglers would never leave home without them, but this is the one exception where they really have no use. The fact is when fish show up you'll see them plain as day and a depth finder would just get in the way. The "below the feet" technique is completely visual and requires little more than a hole and some patience. Working top water panfish is a matter of dropping a suitable bait down the hole and then suspending it from maybe six inches to a foot below the ice and then working it with a minimal amount of action. While you work the bait look for anything that might be eyeballing your bait, but instead of looking for fish that are coming up off the bottom look for those that are sneaking up to it just below the ice. "All of a sudden they'll just show up and they might charge in and take the bait or sit back and study it for a while. Those are the ones that can drive you crazy but they're still fun to watch."
The process gives you the feeling of fishing in an aquarium because you're so close to the fish, which can also be a problem. Because you're so close it's extremely easy to spook fish and any inadvertent movement at the wrong time can send them scurrying for cover, and that's the last thing you want to do. Spooked fish don't bite, and don't usually come back. To help with the spooking factor and to get a better look; a flip over portable like the Fish Trap Pro can be invaluable. With the Pro you can flip it over, fish, and move on if you have to in mere seconds. A cover over the top of you and the hole your fishing can make a huge difference in how well you can see what's going on down below and can help hide some of your movements, but you still have to be careful.
Because the fish have an optimum situation to study your bait you better have your act together. That means one and two pound test line and teeny tiny jigs tipped with small maggots like Eurolarvae. Tiny lures like Northland Tackle's #8 Doodle Bug tipped with a maggot or two is top pick for icing gills and crappies. The Doodle Bug has a super fine hook that will allow you to thread on a couple of Eurolarvae without ripping it apart and killing it and will keep on wiggling which can be too much for indignant panfish to resist.
Productive jigging techniques includes a small up and down wiggle of the rod tip followed by stopping it dead and then waiting for something to show up. Once you get the attention of a potential candidate you may have to change things up to get it to take the bait. Letting it sit perfectly still could be the ticket or you may have to give the rod tip a little quiver. Lifting it up just a little higher could also be the answer and gives the impression that it's trying to get away. It's really a matter of trying different techniques until you figure out the right combination and then duplicating what works.
According to Reed; "The action below the ice can really heat up by the end of the season and seems to get better and better the later it gets. Besides all of the panfish you're also going to see and hook bass, pike, and even muskies, depending on what's available." When the crappies are turned on they'll blow through and grab your bait before you know what happened. Bluegills on the other hand are more apt to take their sweet time, even when they're actively feeding. All in all it's an exciting way to fish and the perfect opportunity for introducing newcomers and kids to the sport. They'll be mesmerized by what they see and won't have to be catching to still have a good time. See you on the ice.